Three takeaways from Ontario's 8-5 win vs the San Jose Barracuda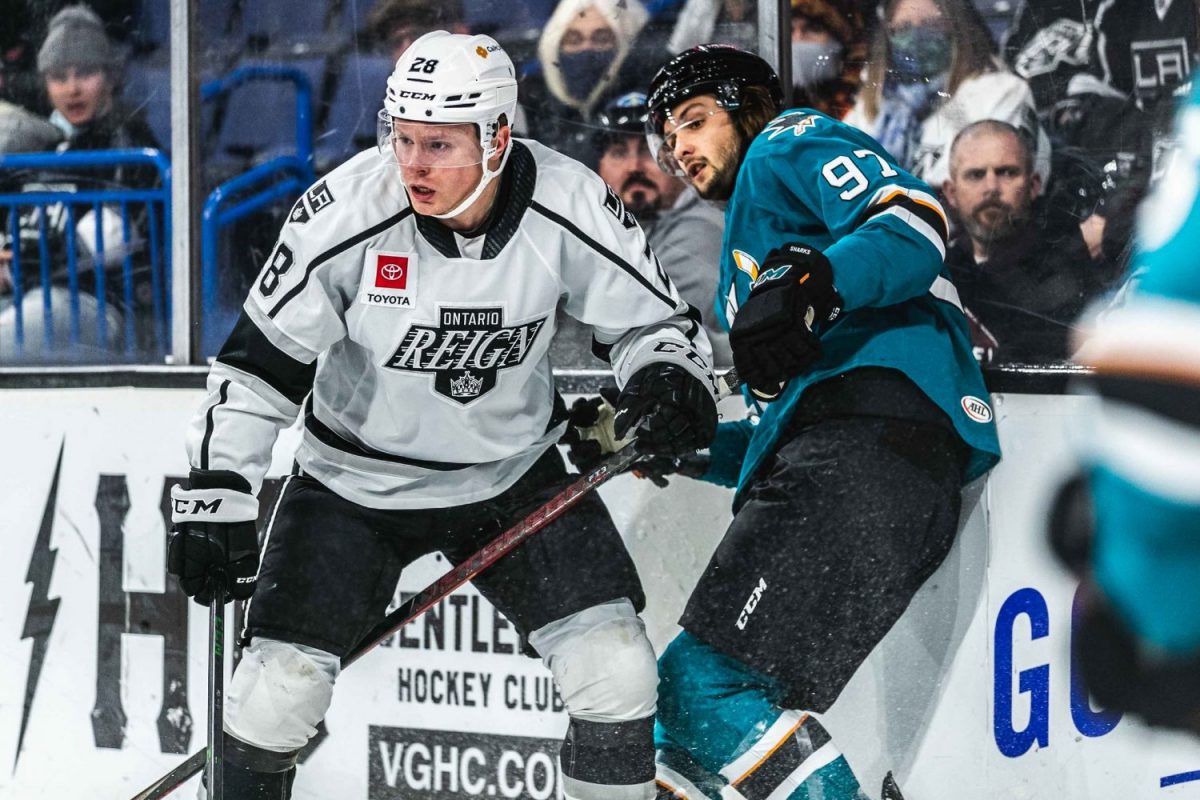 Coming off of a rough loss in Stockton, the Ontario Reign got right back on track with a massive win at home against the San Jose Barracuda, with a combined 13 goals between the two clubs.
This win marked an amazing end to the month for the Ontario Reign, as they finished January with a 9-1-2 record and now hold an overall record of 23-7-3-2. This is a big confidence booster after the team struggled to generate offense against the Stockton Heat last game.
The Barracuda began the game with a goal on the very first shot that Lukas Parik faced. However, the Reign went on to score three straight in the remaining time in the period. This allowed the Reign to set the tempo to their desired level.
As you know, those combined four goals in the first period ended up accounting for just 30% of the game's total count, which is pretty insane if you think about it.
This was the fourth time this season that these two teams met and the third time that the Reign scored seven goals or more against them. They hold a 4-0-0-0 record against them this season and have outscored them 26-11. This marked their highest offensive output of the season to this point.
Obviously, this gives the Barracuda a reason to be angry, especially after their lackluster season that has them at the bottom of the American Hockey League thus far. Because of this, we saw some massive hits happening throughout the game, with Alex Turcotte and Gabe Vilardi getting the rough end of some of them. Montana Onyebuchi of the Barracuda also suffered a big hit from Austin Wagner.
The game featured a total of two fights and 32 penalty minutes as the historical SoCal vs NorCal rival continues to give hockey fans an exciting show, even in the minor leagues. We'll get to see these two teams go at it two more times this season but will have to wait until March 9th for the next one.
1. JAD nets his first career professional hat-trick
After spending over half of the 2020-21 campaign in the National Hockey League, Jaret Anderson-Dolan has found his way back to the Reign in the AHL, trying to work his way back up to the big leagues, and not going to lie, he keeps making it harder to keep him out of Los Angeles.
Anderson-Dolan had a goal in the first period and then back-to-back goals in the second period to earn his first career hat-trick at the professional level, a massive achievement for the forward who many forget is only 22-years old due to his mature stature.
With his hat-trick, Anderson-Dolan is now up to 14 goals and 26 points through 29 games played. He now sits just two points back of his single-season career-high scoring from the 2019-20 season and has done it in 24 fewer games. Insane.
JAD 🎩🎩🎩!!! 5-2 #Reign

Assisted by Spence(23), Tynan (38) pic.twitter.com/USSfV9PniF

— Eric (@kingsgifs2) February 1, 2022
Anderson-Dolan was part of that first line with TJ Tynan and Martin Frk that just absolutely took control of that hockey game and combined for six points total. That's a line of professionals, and I'd expect all three to get another look in the City of Angels at some point throughout the remainder of the NHL season.
2. Twelve Reign players record points
Eighteen skaters suited up for the Reign last night; twelve of them finished the night with a point in the box score. That's a 66.67% rate, which is a grade I happened to be way too familiar with from my days trying to figure out what a Pythagorean theorem was back in 10th grade.
Of the players who scored a point, NINE had multi-point efforts, with Helge Grans and Markus Phillips being the defensemen in the group. Grans especially had another great game, get ready for him to be an NHL player next season if you aren't yet.
Shockingly, Vladimir Tkachev, Akil Thomas, and Tyler Madden were all a part of the group that failed to register a point last night. You'd like to see them get more involved in the offense when there are eight goals scored, but it's not something to be worried about, that's for sure.
3. Lukas Parik, some bright spots, some not so much…
We got to witness a rematch of the Lukas Parik vs Sam Harvey matchup from last week, and even though Parik got the win again, it definitely didn't resemble that 40-save victory we saw from him last time around.
Parik wasn't all bad and made some timely saves, including one that was very Marc-Andre Fleury-esque. The Ontario Reign broadcast crew called it a "suicide save," which I agreed with as well. He took a significant risk with that flying poke-check, but it worked out.
As I mentioned, he also had some rough spots, letting in a goal on the first shot of the game and saving just 19 of 24 shots to finish off the game with a .791 save percentage.
Nonetheless, this win gets him up to 3-0-1 on the season with the Ontario Reign, as he has yet to fall in regulation in the American Hockey League.