Three things to watch for in Ontario at Stockton on Saturday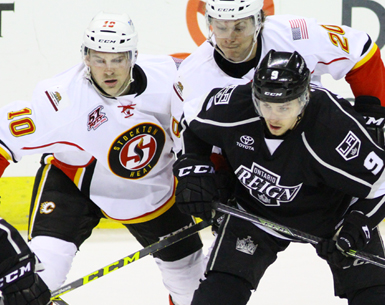 The Ontario Reign will take its four-game win streak into Stockton on Saturday for a battle of Pacific Division heavyweights.
Tale of the Tape
Powerplay 
ONT: 28.8% (1st)
STK: 19.4% (13th)
Penalty Kill
ONT: 74.4 (30th)
STK: 89.4 % (1st)
Goals Against
ONT: 99 (9th)
STK: 84 (1st)
Goals For
ONT: 134 (1st)
STK: 116 (8th)
Key Players
ONT: T.J. Tynan– 8 goals, 36 assists, 44 points
Martin Frk-19 goals, 19 assists, 38 points
STK: Jakob Pelletier- 12 goals, 21 assists, 33 points
Matthew Phillips– 13 goals, 19 assists, 32 points
1. Importance of scoring first
The Stockton Heat are 18-0-2-0 when scoring first this season, so it would behoove the Reign to get on the board first. The Heat have not played since January 22nd, an OT Loss to the Henderson Silver Knights, and that is a long time to stew over a loss.
Thus, the Reign should expect the Heat to come jumping out of the gate and will need to be ready to withstand the pressure.
Ontario has gotten stellar goaltending from Jacob Ingham, Matthew Villata, and Lukas Parik over the past few games, and one of them is going to be called upon to keep Stockton off the board early.
2. Top AHL PP and PK set to collide
The Reign come into town sporting the league's top power play but will have the challenging task of taking on the AHL's best penalty killers in Stockton. So, unless there are no penalties called, something will have to give.
Given that Stockton is unbeaten in regulation when scoring first, it's crucial that the Reign take advantage early on the power-play if given the chance.
3. Most GF versus fewest GA
Is the best offense a good defense? Does good pitching beat good hitting? Slayer or Metallica? Beatles or Stones? You get the idea.
The Ontario Reign torched San Jose with 11 goals over the past two games but should have a more challenging time finding the twine against Stockton's stingy defense.
Bottom line: whoever brings it will skate away in first place in the Pacific Division.
The battle for one-syllable team names gets underway at 6:00 pm PT. Let's get ready to rumble!
LA Kings: Jason Brooks "Just So Proud" to Have Coached Drew Doughty