Five observations in LA Kings' 4-3 OT loss vs Flyers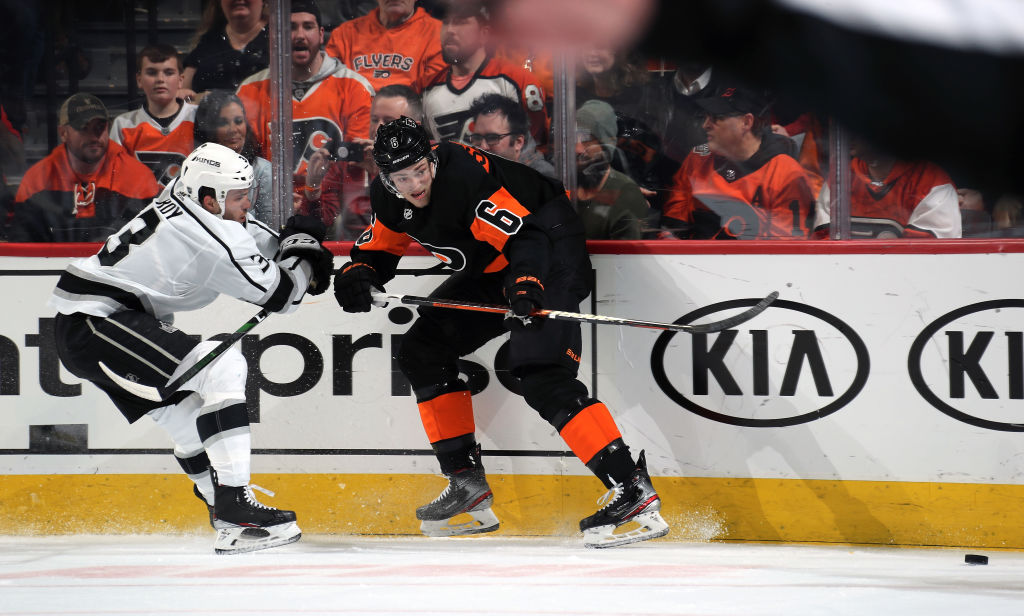 The LA Kings suffered a bad loss to a Flyers' team riding a 13-game winless streak.
Goal Breakdown
PHI: Gerry Mayhew (3), Assists: Morgan Frost (5), Rasmus Ristolainen (9)
PHI: Cam Atkinson (16), Assists: Claude Giroux (20)
LAK: Viktor Arvidsson (11), Assists: Sean Durzi (10), Phillip Danault (13)
PHI: Cam Atkinson (17) (Shorthanded), Unassisted
LAK: Viktor Arvidsson (12) (Power Play), Assists: Sean Durzi (11), Arthur Kaliyev (6)
LAK: Anze Kopitar (14), Unassisted
PHI: Scott Laughton (7), Assists: Cam Atkinson (18), Ivan Provorov (12)
Stats:
Goals:
LAK: 3
PHI: 4
Shots on goal:
LAK: 40
PHI: 36
Hits:
LAK: 17
PHI: 23
Faceoff Percentage:
LAK: 52.8%
PHI: 47.2%
Power Plays:
LAK: 1/3
PHI: 0/2
Five things that stood out:
1. Kings' sleepy start
Much like the day game against the Sharks a couple of weeks ago, the LA Kings did not look sharp out of the gate in Philadelphia. Sloppiness and a lack of details were very apparent throughout the first period, eventually leading to the Flyers opening the scoring as Rasmus Ristolainen dangled through several Kings' defenders to set up Gerald Mayhew's wrister.
"We didn't have a lot of pop, we didn't get our forecheck going at all," Kings head coach Todd McLellan said via LA Kings Insider. "When we did, we had a chance to hem them in for a little bit but it wasn't consistent enough. We didn't check well enough, we missed assignments, we were loose, the first goal was a prime example."
Risto dangles and dishes and Gerry finishes. #LAKvsPHI | #BringItToBroad pic.twitter.com/tQQXVpipPD

— Philadelphia Flyers (@NHLFlyers) January 29, 2022
2. Power-play looked somewhat improved
The Kings' power-play has been anything but an advantage this season. Coming into Saturday's game, Los Angeles had converted on just three of their last 29 power-play opportunities. After Mayhew was tabbed for interference in the opening frame, the power-play looked largely improved from previous contests, logging a ton of o-zone time and four shots on net.
They did the same with their second power-play before being rewarded on the third.
"Really good [to see them get a goal]," McLellan said of the second power-play unit. "They simplified things, they're pretty direct right now, scoring ugly if you will. Good to see them get on the board."
3. Two-goal game for Viktor Arvidsson
Despite a somewhat slow start in a Kings uniform, Viktor Arvidsson is suddenly on pace to score 22 goals. He registered his 11th and 12th goals of the season in Saturday's overtime loss, opening the scoring for the Kings in the second period.
The play was set up beautifully from Phillip Danault with a spinning backhand pass to a streaking Sean Durzi, who dished it to Arvidsson in tight for a tap-in to beat Carter Hart. In the third period, Arvidsson tallied a power-play goal after it was initially credited to Arthur Kaliyev.
For Arvidsson, Saturday marked his second two-goal effort, the previous also coming against the Flyers back on January 1. His second goal also marked his first power-play goal since November 27.
DURZI TO ARVIDSSON🚨 HOLY 🐮@LAKings | #GoKingsGo pic.twitter.com/MULBxkEoFt

— Bally Sports West (@BallySportWest) January 29, 2022
4. Kopitar ties it late
Despite trailing 3-1 in the final frame, the LA Kings responded with two goals, including Anze Kopitar's 14th goal of the year, to even the score with 38 seconds remaining in regulation.
With the extra attacker on, Drew Doughty's one-timer from the left dot was stopped, but the rebound trickled out to Kopitar, who buried it with a quick backhand shot.
….. no words ….
just watch@LAKings | #GoKingsGo pic.twitter.com/Eb1JTsBXtL

— Bally Sports West (@BallySportWest) January 29, 2022
5. OT win snaps Flyers' streak
While it was nice to see the Kings surge back and force overtime, Philadelphia controlled the puck for the majority of the extra time.
Scott Laughton's seventh goal of the year couldn't have come at a better time for the Flyers, who snapped their 13-game losing streak.
Laughts called game. #LAKvsPHI | #BringItToBroad pic.twitter.com/shk7FhLBeZ

— Philadelphia Flyers (@NHLFlyers) January 29, 2022
Los Angeles still earned a point out of that, but that's a game you gotta have. Now, they travel to Pittsburgh to face Jeff Carter and the Penguins for another 10 am PT game on Sunday.