Three takeaways from 3-2 shootout loss vs the Rangers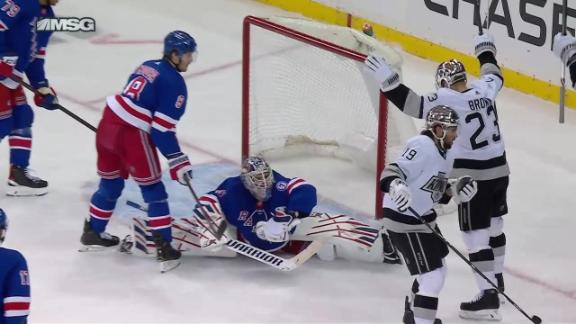 After a win in Newark on Sunday afternoon, the LA Kings had to get set to play another game just 24 hours later in New York against the Rangers.
Going on the road, on the rear end of a back-to-back against one of the league's best teams is not an easy task. While the LA Kings managed to force this game to extra time and get a point out of it, they still fell short in the shootout.
Goal Breakdown
NYR: Chris Kreider (30), Assists: Artemi Panarin (33), Adam Fox (39)
LAK: Blake Lizotte (6), Assists: Mikey Anderson (3), Trevor Moore (15)
LAK: Alex Iafallo (13), Assists: Anze Kopitar (24), Adrian Kempe (8)
Stats:
Goals:
LAK: 2
NYR: 3
Shots on goal:
LAK: 36
NYR: 30
Hits:
LAK: 26
NYR: 26
Faceoff Percentage:
LAK: 46.9%
NYR: 53.1%
Power Plays:
LAK: 1/4
NYR: 1/5
Three things that stood out:
1. Brendan Lemieux game misconduct, possible suspension on the way?
Brendan Lemieux's return to New York did not last long, as the Kings' energetic power forward was kicked out of the game and given a five-minute penalty for an illegal check from behind to Ryan Lindgren.
There's the hit from Lemieux that resulted in a game misconduct.

— Panagiotis Mavridis (@MavridisNHL) January 25, 2022
Lemieux was arguing with the referees after the fact and obviously didn't think it warranted a match penalty.
"The guys want to rally around that and win this game for him," Blake Lizotte said during the second-period intermission. Obviously, they weren't able to do that, but it's good to see that the locker room loves him as much as they do.
The Rangers ended up scoring on that power play, as Chris Kreider scored his 30th goal of the season, the current league leader.
2. Byfield with his first career NHL shootout goal
While Kings fans continue to wait for Quinton Byfield to register his first career NHL goal, they got a taste of what it would feel like last night when he buried one in the shootout.
His goal was nice. As he walked in, he led Rangers goaltender Igor Shesterkin to one side of the net and then fired it on his glove side.
Here's Byfield's goal in the shootout.

— Panagiotis Mavridis (@MavridisNHL) January 25, 2022
Yeah, Alexis Lafreniere and Adam Fox scored back-to-back after that one to win the game for the Rangers, but let's focus on the positives, hey?
3. Quick turning back the clock
As he's done time and time again this season, Jonathan Quick put on a clinic in New York last night, giving the Kings the opportunity to win in the first place.
Quick saved 28 of 30 shots that came his way, good for a .933 save percentage and 1.38 goals saved above expected (GSAx).
Quick made numerous big saves throughout regulation and, of course, in overtime, where there was not a single stoppage of play through its entirety.
This one was an absolute beauty:
Jonathan Quick makes leaning glove save on Jacob Trouba.#GoKingsGo #NYR #NYRvsLAK pic.twitter.com/UlnQH2wnVB

— LA Royalty (@LARoyalty1967) January 25, 2022
Anyone who knows Quick, though, knows that he doesn't care about individual performances and that he was likely the most frustrated in the room about that loss.
The LA Kings are back in action on Thursday night against the New York Islanders.