Three things to watch in LA Kings vs Colorado Avalanche on Thursday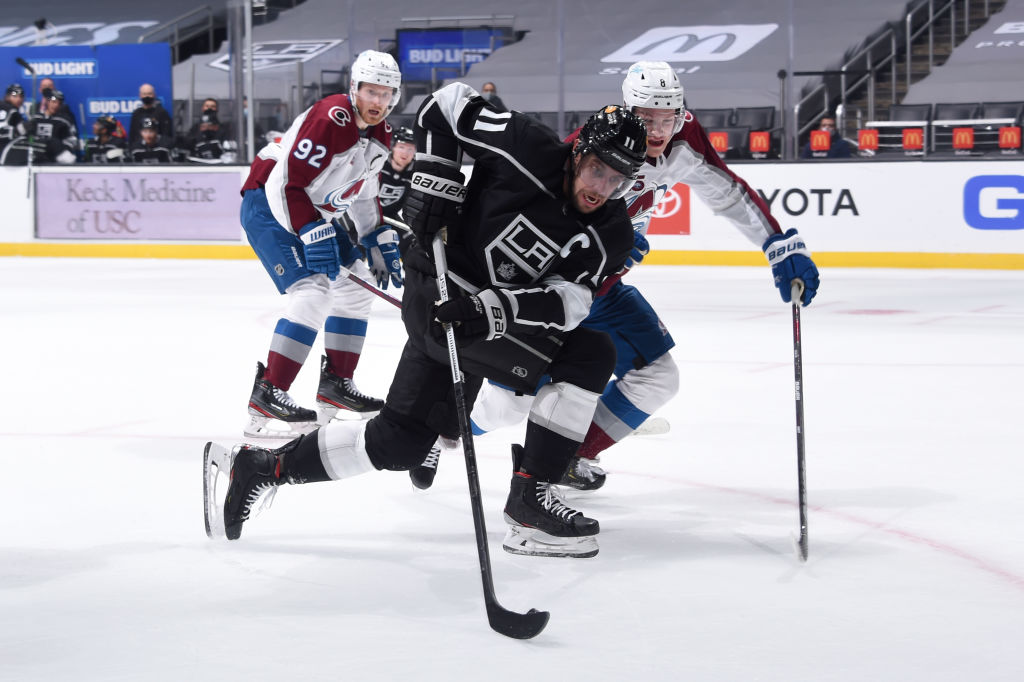 In the modified Honda West Division last season, the LA Kings went 1-7-0 against the Colorado Avalanche. They meet for the first time in 2021-22 on Thursday.
Tale of the Tape
Power-play:
LAK: 16.7% (25th)
COL: 23.2% (9th)
Penalty Kill:
LAK: 74.1% (29th)
COL: 75.0% (27th)
Faceoffs:
LAK: 53.3% (6th)
COL: 47.2% (28th)
Goals per game:
LAK: 2.83 (18th)
COL: 4.19 (1st)
Goals against per game:
LAK: 2.70 (8th)
COL: 3.11 (21st)
Top scorers:
LAK: Anze Kopitar – 12 goals, 23 assists, 35 points
COL: Nazem Kadri – 15 goals, 36 assists, 51 points
Here are three things to keep an eye on tonight:
1. High-powered Avalanche latest test for LA Kings
For how slow the Colorado Avalanche started this season, they've been red-hot since the beginning of December, carrying a 14-2-2 record in that span. They've been scoring goals at an astronomical rate, tallying seven goals on seven different occasions this season, including three straight games back in the early part of December.
Nazem Kadri, Mikko Rantanen, and Nathan MacKinnon pace all forwards with 51, 46, and 40 points, respectively. However, Cale Makar is playing at a Norris Trophy-caliber, with 16 goals and 37 points coming into Thursday's game.
Jared Bednar's group has been getting it done on the power-play, converting on their last 16-of-60 opportunities (26.7%), including 3-of-4 against Ottawa earlier this month.
As discussed further in a bit, their Achilles heel this season has been their penalty kill. Over that same stretch, the Avs have killed off 37-of-52 chances (71.1%), providing some glimmer of hope for the Kings to capitalize on. Of course, LA has its own problems on special teams.
2. Fresh blood back into the lineup
It would appear that some roster shuffling is in order in advance of Thursday's game, as LA Kings head coach Todd McLellan noted that both Andreas Athanasiou and Carl Grundstrom are likely to draw back in against the Avalanche.
"We'll be able to shuffle some stuff around. I expect Athanasiou to get back into the lineup here, perhaps as early as Thursday, it's time, and Grundstrom will be back in, so we'll have some bodies that we can likely inject, but we'll have to see where everybody is with bumps and bruises as well," he said on Tuesday.
Athanasiou has not played since December 14, sidelined with a lower-body injury. McLellan indicated the 27-year-old was not yet cleared last Thursday against the Penguins, but it seems his time to suit up is here. The Woodbridge, Ontario native has had some tough luck this year, going down with an injury and lost to COVID. He's played in just 11 games, scoring three goals and six points. With Adrian Kempe out for at least Thursday's game, slotting Athanasiou into the top line next to Anze Kopitar makes a lot of sense.
Grundstrom is returning from COVID protocol, and this is where things could get interesting. Dustin Brown played on the top line on Tuesday, so he'll likely return to the third line where he's been lining up recently. Add Grundstrom back into that line as well, and are we looking at both Alex Turcotte and Samuel Fagemo going back to the AHL? In my opinion, Turcotte has played well despite not making the scoresheet. Rasmus Kupari has disappeared, and some additional seasoning with the Reign would make sense for him at this time.
3. Kuemper back in net for Avs
If you missed Monday's contest in Denver, Avalanche netminder Darcy Kuemper sustained what appeared to be an intentional hit from Wild forward Jordan Greenway. The hit sparked a reaction from Colorado, with former LA King Kurtis MacDermid dropping the gloves with Greenway. In the background, Kuemper was seen stretching out his neck. He remained in the game for a brief period of time before he was removed.
Of course, a concussion is always the primary concern when taking a shot to the head.
That said, it appears Kuemper will start the second leg of Colorado's back-to-back, with Pavel Francouz getting the nod in Anaheim on Wednesday.
Jared Bednar said, on his Altitude radio show today, that Darcy Kuemper did not suffer a concussion and will start tomorrow in LA. Frankie will start tonight against Ducks, however

— Adrian Dater (@adater) January 19, 2022
The 31-year-old has not suffered a regulation loss since November 26, 2021, rattling off ten wins and an overtime loss since then. If any area of Kuemper's game is leaky, it is on the power-play. He has already allowed 19 goals on the opposition's man advantage, good for a .846 SV% in such situations.
In 15 career games against the Kings, Kuemper has a .923 SV% and a 2.27 GAA, including two shutouts.
As well-documented, the LA Kings special teams have been dreadful this season, so they will need to take advantage of all power-play opportunities. They've had success in that department against Kuemper, tallying five goals on the man advantage in the 15-game sample they've seen him throughout his career.
Also, some site news. Hockey Royalty has been selected by Feedspot as one of the Top 15 LA Kings Blogs! Thank you to all of our readers!
Check out all blogs listed on their site (HERE):
UPDATE: Byfield will make his season debut tonight as well!
Quinton Byfield will make 2021-22 season debut against Avalanche