Roster Shuffling (and Options) When Dustin Brown, Others Return to Lineup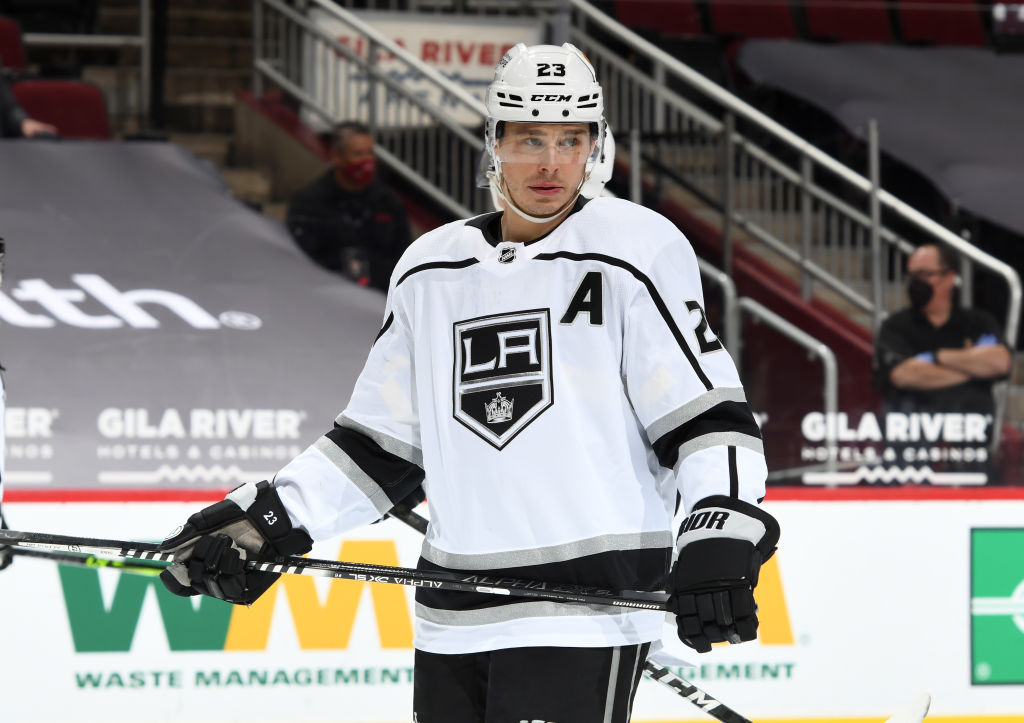 The LA Kings sit with a 16-12-5 record and are flirting with a playoff spot if the season were to end today. Granted they have a game in hand on the Sharks, who are two points behind them in the standings. The Colorado Avalanche have several games in hand, resuming play on Sunday after nearly two weeks off because of COVID-related issues.
Los Angeles made it through the month of December with a 6-3-1 record, which if you recall, going into the month, looked like an uphill battle. Of course, three games were postponed due to the ongoing pandemic, but the Kings more or less made it through the most difficult stretch of their schedule like Andy Dufresne escaping the Shawshank State Prison.
Now, as the LA Kings shift their attention toward the month of January, a red-hot Nashville Predators club is next on the docket after Los Angeles downed the Philadelphia Flyers 6-3 on Saturday.
Between now and then, the Kings could potentially be getting a few players back into the mix. Before that, though, here's how the team lined up the last two games:
Forwards
Iafallo – Kopitar – Kempe
Moore – Danault – Arvidsson
Grundstrom – Turcotte – Kupari
Lemieux – Lizotte – Kaliyev
Andersson
Defensemen
Anderson – Doughty
Wolanin – Roy
Bjornfot – Durzi
(Moverare)
Goalies
Quick
Petersen
Players Returning Soon
Dustin Brown and Olli Maatta have been in COVID protocol since December 26. And with the league's recently revised COVID protocols, both players are eligible to return from isolation after just five days instead of the previous 10-day stipulation.
Likewise, Andreas Athanasiou should be getting close to returning after suffering a lower-body injury in the latter stages of the game in Tampa. When asked about his timetable, Kings head coach Todd McLellan seemed to favor the backend of the current seven-game homestand for Athanasiou's return:
"He didn't skate the last two days, so I wouldn't say he's real close," McLellan said, via LA Kings Insider. "On this homestand, maybe at the backend, but certainly from now into the early new year, I don't see him in the lineup."
Waivers Exempt/Required
After Jacob Moverare was loaned back to the Ontario Reign of the AHL on Sunday, the LA Kings have one free spot on their 23-man roster. Obviously, something has to give here, and the Kings brass will have the difficult decision of sending a couple of players back to Ontario whether they are waivers exempt or not.
The question then is "Who?"
For this exercise, let's assume "untouchable" forwards are Iafallo, Kopitar, Kempe, Danault, and Arvidsson.
Defensively, the roster shuffling isn't much of a problem with Moverare being recalled and returned to serve as the team's seventh defenseman in a pinch. So, assuming the Kings want to carry seven D men on their roster, Olli Maatta slots into Moverare's spot.
Exempt
Required
Data via CapFriendly
Options
Option 1: Send Turcotte and Kupari back down to Ontario
On paper, this makes the most sense in terms of asset management. It's also the easiest option. Neither Turcotte nor Kupari requires waivers to go back to the AHL, which would easily free up two spots for Brown and Athanasiou to slot back in.
Option 2: Keep Turcotte OR Kupari up, place Lias Andersson on waivers
Now we're getting into the weeds. If the Kings want to keep Turcotte or Kupari up with the big club, then obviously one of the players above has to go through waivers in an attempt to send them back down to Ontario should they clear. To me, Andersson makes the most sense, given what the other "waivers required" players have shown.
Option 3: Keep BOTH Turcotte and Kupari up, place two players on waivers
If the Kings really want to just play the kids and keep most of the current roster intact, one that's seen them start to gel into the winter months, they can certainly keep both Alex Turcotte and Rasmus Kupari on the NHL roster.
However, two aforementioned players, perhaps Lias Andersson and Carl Grundstrom, will have to clear waivers. It's the riskiest in terms of pure asset management and will decrease their future trade value if they are somehow not claimed.
What will the LA Kings do?
As much as I want to see Turcotte and Kupari continue to develop and play at the NHL level, when Dustin Brown and Andreas Athanasiou return to the lineup, those two players (Turcotte and Kupari) are probably returned to Ontario.
So Option 1 from above.
If Brown and Athanasiou were returning to the lineup closer to the trade deadline, the Kings' front office might be able to swing a deal with a prospective club to clear up a couple of roster spots.
Of course, the LA Kings will also have to make a roster decision when Quinton Byfield is ready to make his 2021-22 season debut with the team. A lot to consider over the next couple of months, potentially resulting in a couple of those "depth pieces" being traded or part of a much larger trade package to acquire an established asset.
Moore's Career Night, McLellan's 500th Win, and Other LA Kings Bullets