Top 5 Defensemen Trade Targets for the LA Kings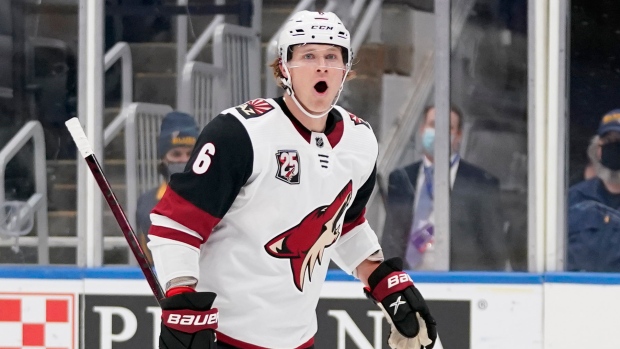 The LA Kings' defensive core has taken a hit as the season has moved along. Alexander Edler and Sean Walker have been placed on long-term injured reserve and are out indefinitely. Drew Doughty is also out for the short-term due to the league's COVID-19 protocol list.
As we've learned in past playoff runs for various teams, it's never a bad thing to have depth on your blue line, so I've decided to take a look at five potential options for the Kings on the trade market.
I think this is the obvious option that Kings fans want. Chychrun is a top-25 defenseman in the NHL and is a number two defenseman on every single team and number-one defenseman on a couple of teams. His play has taken a hit after last season due to the Arizona Coyotes plummeting to the bottom of the league's standings, but make no mistake, he's still an amazing player.
Chychrun has two goals, seven points through 26 games played this season, which compared to his 18 goals, 41 points in 56 games played last season looks really bad. Not all is bad, however, as he's actually been better defensively this season than he was last season, with a 1.80 even-strength defensive goals above replacement (EVD_GAR).
It's just his offense that has taken a hit and would be easily fixable playing on a Kings team with way more offensive weapons than Arizona.
An amazing thing about Chychrun is his contract. He's signed at just $4.6 million until the 2025 offseason, a Nathan MacKinnon steal type of contract for the defenseman. The bad news about this is I think it raises his trade value a ton.
I'd expect the Coyotes' ask to be at least two first-round picks, two top prospects, and maybe another minor asset or two, which is a major ask for the Kings, who aren't even a lock for the playoffs yet.
At the end of the day, I think Chychrun would be a fantastic fit in Los Angeles, but that trade ask may scare them away. We'll see when the time comes.
Another defenseman out of Arizona, Gostisbehere would be a nice offensive weapon and power play specialist to add in Los Angeles. You'll notice a theme on this list, all of the defensemen are left shots. It's what the Kings need at the moment.
Gostisbehere's comeback has been remarkable to watch. Last season he was placed on the waivers and cleared. This past offseason, the Philadelphia Flyers needed to add a second-round pick just to get rid of him to the Coyotes. Now, he's been amazing and arguably the best defenseman in Arizona.
He has four goals, 18 points through 29 games played this season. He's average defensively analytically but above replacement level offensively both at even-strength and the powerplay. His acquisition would be welcomed to the lineup considering the team has just two healthy defensemen with more than six points this season.
The Kings have had offensive struggles, but a lot of it stems from the fact that they aren't generating much offense from the blue line, and Gostisbehere would change that.
I'm not entirely sure what the price to acquire him would be. He has one more season after this one on his contract at $4.5 million. I could see him being shipped off at the trade deadline for a second-round pick and a low-end prospect.
Dermott is a player I've thought for years would eventually end up in Los Angeles, and I wouldn't be surprised to see that finally come to fruition at some point this season.
With the emergence of younger defensemen in Rasmus Sandin and Timothy Liljegren, Dermott has been pushed out of the lineup at times, sometimes serving as the team's seventh defenseman. After being their analytical darling for a couple of years, he's somewhat fallen off, maybe due to the fact that his role has lessened over time. I think it's time for a change of scenery for him.
Dermott's signed for one more season after this one at just $1.5 million. It makes him easily moveable if the team decides they don't want him or easily buriable. I also don't think that he will cost too much on the trade market.
I could see the Maple Leafs parting with him for as low as a third-round pick, which the Kings could easily do. With increased ice-time and a bigger role in Los Angeles, this could be a potential steal in the making.
I really wouldn't be surprised if we saw McNabb back in Los Angeles at some point this season. The Vegas Golden Knights are hoping to clear cap space so that they can eventually take Jack Eichel off of LTIR when he's healthy, and it appears as though McNabb and another forward will have to be cap casualties.
McNabb is the only player on this list that I would consider a "rental," as his contract ends after this season, and he becomes a UFA. He has two goals, seven points through 32 games played, with his primary purpose being to serve as a shut-down, hardnosed defenseman who can lay the body.
He'd be able to stick up for the young players on this team and provide a physical presence.
As I said, the Golden Knights will be forced to get rid of players at some point, and I think the Kings would be able to get McNabb for a mid-to-late round draft pick due to Vegas' desperation. It would be worth it to pick up a rental defenseman to plug in the hole that Edler and Walker left if it was for that cheap of a price.
This one is a bit of a wild card, but like Dermott, I always thought that Riikola would be a nice fit with the Kings.
Riikola has been completely mismanaged by the Pittsburgh Penguins since coming over to North America. For the most part of his tenure, he's been utilized as a seventh defenseman or AHL-level player when he has the ability to slot into a top-six consistent role.
He's disciplined defensively, can chip in offensively from time to time, and can change the momentum with a big hit.
It honestly looks like if Riikola finishes the season in Pittsburgh, he'll end up heading back to Finland or somewhere in Europe for the remainder of his career this offseason, so maybe try to sway them into trading him to give him one more chance at revitalizing his career elsewhere.
From my time covering the Penguins a couple of years ago, I really see some untapped potential in him, and I think the Kings would be able to unleash it. It obviously wouldn't cost much either, as he's currently just in the AHL with the Wilkes-Barre/Scranton Penguins. At most, a sixth or seventh-round pick.
COVID Protocol Silver Lining, NHL Players Not Going to Beijing, and Other LA Kings Bullets