Three things that stood out in LA Kings' 3-2 win vs Washington Capitals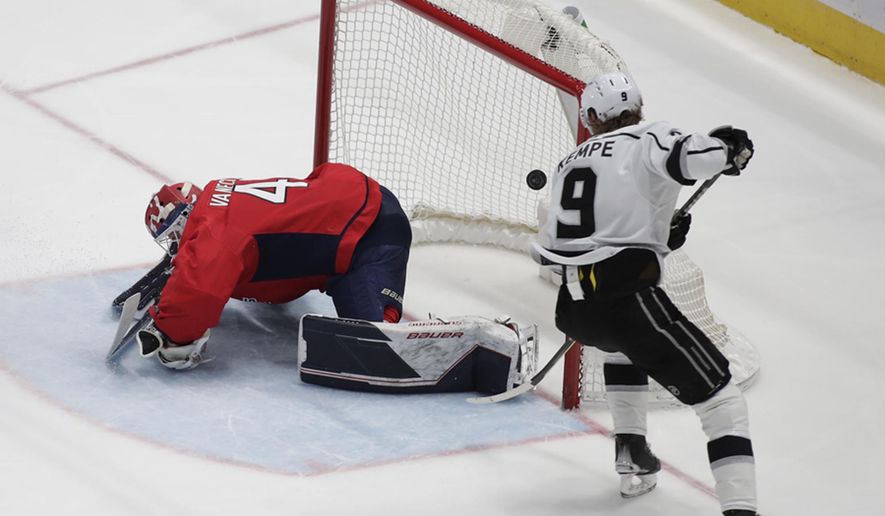 In a game that wasn't the prettiest, the LA Kings managed to rally back from a 2-0 deficit and win over a hot Washington Capitals team, 3-2 in what will be their last game until Thursday.
Goal Breakdown
WSH: Connor McMichael (4), Assists: Joe Snively (1)
WSH: Justin Schultz (2), Assists: Garnet Hathaway (3), Conor Sheary (8)
LAK: Blake Lizotte (3), Assists: Anze Kopitar (18), Alex Iafallo (10)
LAK: Christian Wolanin (1), Assists: Matt Roy (10)
LAK: Adrian Kempe (12), Assists: Matt Roy (11), Dustin Brown (8)
Stats
Goals:
LAK: 3
WSH: 2
Shots on Goal:
LAK: 24
WSH: 35
Hits:
LAK: 34
WSH: 30
Faceoff Percentage (%):
LAK: 61.4%
WSH: 38.6%
Power Plays:
LAK: 0/4
WSH: 0/6
Three things that stood out:
1. Sparks fly in Kings' debut
The Kings owe a large part of this win to goaltender Garret Sparks, who was making his debut with the LA Kings. This was his first start in the National Hockey League since the 2019-20 campaign with the Vegas Golden Knights.
Sparks stopped 33 of 35 shots that came his way, good for a .943 save percentage and -0.10 goals saved above expected. He also stopped the greatest goal scorer in the history of the game, Alexander Ovechkin, SIX different times. Phenomenal.
After the game, Sparks got pretty emotional and was open about his hard road back to the NHL:
"You've got to start from the ground up and work your way back. This time last year, I was in the ECHL, I was making $600 a week. I was having a good time, just enjoying playing hockey," Sparks said. "Goaltending is an anxious position and you battle with that and you battle with injuries and whatever and you get to the highest level and then it gets taken away from you and you've got to work your way back."
The flow travels!! Sparks fly in an emotional win for the goalie!#GoKingsGo | @LAKings pic.twitter.com/MyLyGBkbMG

— Bally Sports West (@BallySportWest) December 20, 2021
2. Two points for Roy
Roy led the team in points in last night's game, with two assists. He was key to the team's success and comeback from the two-goal deficit.
Roy's first assist came from a point-blank shot that was kicked away by Vitek Vanecek but led right to Christian Wolanin, who buried his first goal of the season. The second assist was a chip pass in the neutral zone to set up Adrian Kempe in perfect position for that weird bounce goal that would eventually win the Kings the game.
He ranked third on the team in expected goals percentage, with 59.34%, thanks to his solid defensive efforts along with his production. He also led players on both teams in game score by a large margin of 2.83.
Matt Roy was far and away the best player on the ice tonight. #GoKingsGo https://t.co/oRv5ZYr5Ln

— Ryan Sikes (@ryan_sikes10) December 20, 2021
3. Despite the win, Kings yet again outplayed for MOST of the game
I hate to be a Debbie Downer, and all that really matters is the two points, but the Kings really didn't deserve that win until the third period when they showed up. They were outshot by nine and beat in expected goals 1.90 to 1.24.
The team didn't really generate any high-quality scoring chances until late in the game, and they allowed six power plays to a lethal Capitals special teams unit. However, they managed to kill them off, which was a good sign.
I'm not saying this really means anything. It was the backend of the back-to-back against an elite team after playing another elite team last night. You're bound to be tired, so it's nothing to be worried about. I'm just saying that the Kings were very lucky to come out with that win.
With this win, the LA Kings improve to 14-11-5 and sit fifth in the Pacific Division. They play the Vegas Golden Knights on Thursday night next.
LA Kings' game with Edmonton Oilers on Wednesday has been postponed