Three things that stood out in LA Kings' 3-2 OT loss vs Tampa Bay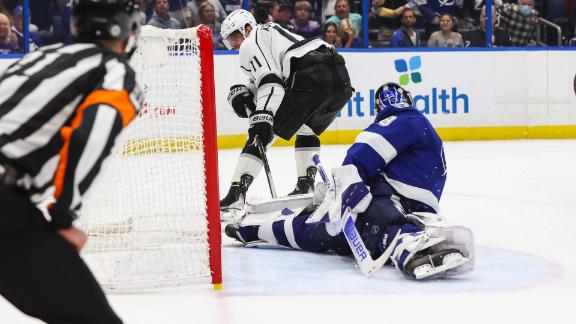 The Tampa Bay Lightning have won two Stanley Cup championships since the LA Kings played them. Although the Kings couldn't grab the win, they managed to steal a point, currently holding a 12-10-5 record.
The game was pretty exciting, with teams trading point-shot goals back and forth. The LA Kings may have wanted a better performance, but they've got to be content with taking a point out of Tampa Bay against the reigning champions.
Goal Breakdown
LAK – Doughty (3), Assists: Iafallo (8), Kopitar (17)
TBL – Hedman (6), Assists: Maroon (3), Stamkos (20)
LAK – Arvidsson (6), Assists: Roy (8), Danault (10)
TBL – Raddysh (4), Assists: Katchouk (4), Rutta (4)
TBL – Joseph (5), Assists: Colton (8)
Stats
Goals:
LAK: 2
TBL: 3
Shots on Goal:
LAK: 30
TBL: 30
Hits:
LAK: 26
TBL: 29
Faceoff Percentage (%):
LAK: 51.1%
TBL: 48.9%
Power Plays:
LAK: 1/2
TBL: 0/3
Three things that stood out:
1. Jonathan Quick stood on his head, again
It wouldn't be a Kings game if Jonathan Quick wasn't forced to stand on his head to keep the team in it at times. He had another terrific game, doing his best to give Los Angeles the win, but it wasn't enough.
Quick shined heavily in the first period when he made a pair of huge saves. He also made some clutch saves during the overtime period as well but couldn't make the final one to give the team the win.
*Watches @JonathanQuick32 save*

You from your couch: "Psh, yeah I could do that, doesn't even look hard." pic.twitter.com/rwfq3FadM0

— LA Kings (@LAKings) December 15, 2021
Nonetheless, Quick still saved 27 of 30 shots that came his way, good for a modest .900 save percentage, along with a 0.42 goals saved above expected (GSAx)
2. Rough calls by the ref
I don't like to call out officiating often. Hockey is a fast sport, a lot can be lost in translation, and it's hard to keep up with. That being said, you cannot miss that call if you're the referee of last night's game.
TBL Goal – After a non-call as Arvidsson goes down at one end, Tampa Bay takes it the other way and wins in OT.

— Zach Dooley (@DooleyLAK) December 15, 2021
BRB, watching @MathJoseph7's game-winner on repeat. pic.twitter.com/wWxMNcbBU6

— Tampa Bay Lightning (@TBLightning) December 15, 2021
For starters, Anze Kopitar being called for that trip at the end of the second period is brutal. However, if you're going to call that, you need to stay consistent. Mathieu Joseph ended up doing the exact same thing to Viktor Arvidsson in overtime, but there was no call, and it led to the Lightning winning the game.
Again, I don't like to blame referees often, and honestly, the LA Kings didn't really deserve that win, but they could've had it if the right call was made.
3. Olli Maatta getting big minutes
One thing to note from last night's game is that Olli Maatta was getting extensive looks and played a large role in the blue line. He logged 22:58, the second most of all defensemen behind just Drew Doughty (25:10).
Obviously, Maatta came in for relief for Alexander Edler, who is bracing for a long recovery period from a lower-body injury. Despite this, nobody expected him to get this large of a role this quickly.
Through his time, I'd say Maatta was surprisingly solid. He registered two shots and one hit and led the team in expected goals percentage (xG%) with 70.22%. Hopefully, he can bring this level into the coming games and maybe begin to get on Kings fans' good sides.
The LA Kings' next game will come on Thursday when they take on the Florida Panthers in Sunrise.