LA Kings: Brock Faber Ready for Team USA Defense of World Junior Gold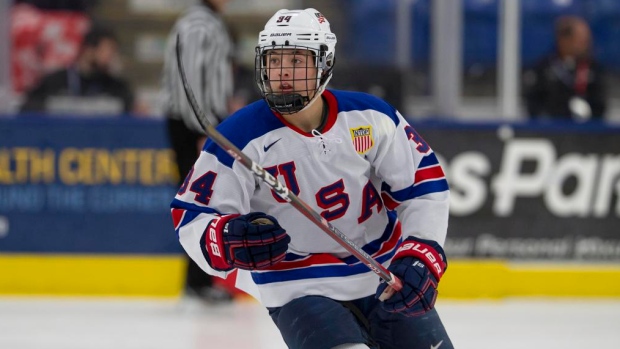 On Tuesday afternoon, LA Kings prospect Brock Faber briefly spoke with the media on preparations for the upcoming World Juniors.
On Dec. 26, the World Junior Championship will get underway in Edmonton and Red Deer with Team USA looking to successfully defend their gold medal. Among those returning for the American squad is LA Kings prospect Brock Faber when the news of the final roster became official on Tuesday.
Also selected for Team USA's 2022 team is head coach Nate Leaman, who returns after guiding the Americans to gold in Edmonton back in January. A significant part of Team USA's success last year was Leaman's emphasis on defense, particularly his desire to have his defensemen block more shots. After all, Coach Leaman has been focusing on this in every practice to date. Brock Faber, a defenseman himself, addressed this on Tuesday afternoon when he spoke to the media.
"Oh, yeah, of course, of course," Faber said when asked if he expects to block a lot of shots in the upcoming tournament. "You know, obviously, that's– blocking shots, you know, it isn't a skill. It's more of just– it's the will to do it for your teammates, for, obviously, this country, too, and, you know, he's preached it a lot and that's something we feel very strongly about. So, hopefully, I can get a few early in the tournament to get things going."
En route to his country's gold-medal win in 2021, Faber was a defensive stalwart. Among the offensive attacks he helped shut down, the Kings' second-round draft pick from 2020 was instrumental in keeping Canada off the scoresheet in the championship game — no small feat considering how explosive the Canadians were in last year's tournament. Nevertheless, Faber was integral to Team USA's success and is back with the squad this year as a veteran. However, this year's version of Team USA is less experienced. This includes in goal where all three netminders — Drew Commesso, Kaidan Mbereko, Dylan Silverstein — are set to compete in their first World Junior showcase.
"You know, obviously all three, they're all new guys on this team, but they're all unbelievable goalies," Faber beamed. "As a D-corps, it's a quick tournament and this tournament's a lot about confidence. You saw that with Spencer Knight last year. He was– the first couple of games were tough but he's an unbelievable goaltender and at the end of the tournament, he was the best goalie of the tournament. And we have that same confidence in the goalies we have this year and they fit in awesome, and they've been great so far. So, definitely very thankful to have good goalies behind us D. It makes things a lot easier, for sure."
Among the many positives for Faber is how athletically gifted he is. In addition to his defensive prowess at the 2021 World Juniors, the native of Maple Grove, Minn., collected five assists in the tournament. On Tuesday, he was asked whether those athletic gifts came naturally or if he worked towards acquiring said gifts.
"It's a little bit of both," Faber noted. "My parents, obviously, they were athletes, too, so I'm sure I got both their genes in me, too. But yeah, I played a lot of different sports. Obviously worked hard, worked hard in the weight room, but yeah, I think it's something I guess I was kind of just, you know, born with, I guess, but I definitely worked for it, too.
"I played football my whole life until I went to NTP. Football and hockey are kind of the main two and then I played baseball until I was about 14, 15, I tried lacrosse for a year, played soccer a lot. But yeah, mostly, the main two were football and hockey."
Now that the final roster is set, Team USA will be in full preparation for the 2022 World Juniors. The tournament begins on Dec. 26 as Faber and the Americans begin their championship defense against Slovakia in Red Deer. The puck drops at 9:30 pm EST (6:30 pm PST).
Defensive pairs without Edler, Big roadtrip, Olympics, and other LA Kings Bullets