A Bang, Not a Whimper: LA Kings' Jonathan Quick Not Going Away Quietly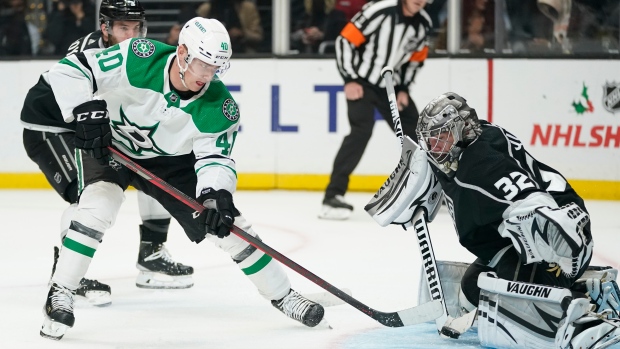 As noteworthy as it was, Jonathan Quick's 56th-career shutout on Thursday was secondary to the LA Kings' overall victory.
When the abbreviated 2020-21 season came to a close, many questions were surrounding Jonathan Quick. From his age to the emergence of Cal Petersen, there was a fair deal of uncertainty as to whether the veteran netminder's career with the LA Kings was coming to an end. Of course, while it hasn't been officially dubbed as such, the 2021-22 campaign has been known as, for all intents and purposes, Jonathan Quick's coming back party.
While his 6-5-3 record may not be indicative of how integral he remains to his team, Quick has nonetheless answered any criticisms he's faced earlier this year by bringing his A-game, reminding those critics that he's not willing to relinquish his role with a whimper, but rather a bang.
On Thursday, Quick and the Kings were in tough against a very hot Dallas Stars team backed by netminder Jake Oettinger, who entered said matchup undefeated on the season with a goals-against-average just a shade over 1.50. But the Kings, coming off a lackluster 4-0 loss against the transitional Vancouver Canucks, came out firing on Thursday, winning 4-0 backed by Quick's 27-save performance for his 56th-career shutout. Of course, while earning a shutout — especially against one of the NHL's top teams — is noteworthy in itself, Quick did not hesitate to put his team's accomplishment ahead of his own.
"No, it's wins," the 35-year-old said following Thursday's victory, responding to whether shutouts make his wins extra special.
For those who feel that the Kings goaltender underestimates himself, they may be correct, especially considering how tight much of the game was.
After a scoreless first period, Adrian Kempe scored just 50 seconds into the second frame and the Kings held onto the slim lead until the latter part of the third when Arthur Kaliyev notched an insurance tally to make it 2-0. Up until that point, though, the Stars had a plethora of quality chances. Quick came big when he had to as did his defensive corps.
"I thought we played really well," Quick emphasized. "I think we've had a lot of games similar, but yeah, we made them earn their way into the zone a lot, and when they got in there, we made them earn their way towards the front of the net. You know, and we had some timely goals, so yeah, it was a great team effort.
"They came in here with, I think, the second-ranked power play. We did a great job on the kill — they had three power plays in the first half of the game — and then, I think, we– after that, we didn't test our luck and we checked well, stayed out of the box for the rest of the game. I think things like that, that play a big factor in finding ways to win."
With the shutout, Quick is now 23rd on the NHL's all-time list and just second behind active goaltenders (Marc-Andre Fleury, 69). What may be more noticeable, though, are Quick's other numbers.
His 2.11 goals-against average marks the veteran's best totals in the said category since 2013-14 while his .931 save percentage is a career-best. Of course, this is assuming the season would end today and we still have a long way to go. Nevertheless, Quick has certainly used the 2021-22 season — as young as it remains — as an opportunity to show critics and supporters alike that he still has what it takes to be a No. 1 netminder in this league. So, while Father Time may not always be on his side, we are being given a stark reminder as to what makes Jonathan Quick so invaluable — and that's pretty darn special. Heck, regardless of how realistic his chances are, No. 32 was asked if he wanted to represent his native United States at the upcoming Winter Olympics.
"I mean, who couldn't," a succinct Quick responded.
Regardless if there's another Olympic appearance on the horizon or another Vezina conversation, Jonathan Quick has entered this season on a mission — and so far, he's firing on all cylinders. So, win or lose, the LA Kings continue to have their support of their long-time starter in between the pipes, giving it his all every night, no matter the outcome.
Jonathan Quick has accomplished so much with the LA Kings, but if anyone thinks that he'll be content to rest on those laurels, they'll be mistaken — with each one of his outings as hard, substantial proof.
Todd McLellan talks "A" game, Quick's dominance, Fleury gets 500, and Other LA Kings Bullets