Doughty joins Hedman, Tippett talks McDavid Incident, and Other LA Kings Bullets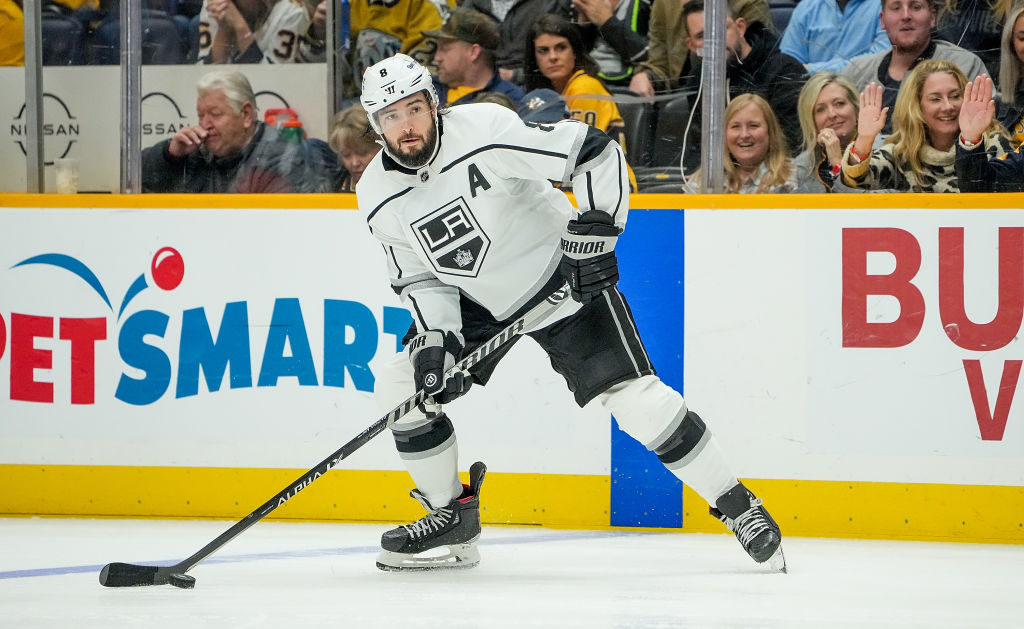 Arguably their most complete team win and best defensive performance of the season, the LA Kings notched a HUGE win in Edmonton on Sunday night. Really, the only defensive breakdown came on the Kings' first powerplay when they allowed a shorty to Darnell Nurse.
Los Angeles has allowed five shorthanded goals this season, if you're counting at home. The jokes were running wild on Twitter about if the Kings could decline the penalty going forward.
LA Kings defenseman Drew Doughty tallied three points, including a backbreaking powerplay goal during the team's five-minute powerplay in the third period.
I think every player on our team touched the puck on this play. 🔥#GoKingsGo pic.twitter.com/0YFS7jg7ya

— LA Kings (@LAKings) December 6, 2021
Straight from NHL Public Relations – Doughty notched his second three-plus point outing of the season, second to only [Victor] Hedman (3) for the most among defensemen in 2021-22.
"We said don't sit back, you know, keep pushing forward, but obviously, our game plan is never to take high-risk things," Doughty said of the team's approach in the final frame. "Just, you know, stay calm, work hard, get pucks in, get pucks out. We just stuck to our game plan that we were told to play with from the get-go. We didn't change anything in the third [period]. We just wanted to make sure we didn't sit back. That was the only emphasis going into this third was don't sit back and wait."
Tobias Bjornfot's NHL debut came against these Oilers in this building in October 2019. If you recall, Connor McDavid made Toby look pretty bad en route to a goal. Nearly two years later, Bjornfot showed real growth in his game with a great poke-check in a 1-on-1 with McDavid last night.
It's a small play, but really impressive how Toby Bjornfot just handled a 1-on-1 situation against Connor McDavid. No intimidation for a young player, who made his NHL debut as an 18-year-old at this very rink in October 2019.

— Zach Dooley (@DooleyLAK) December 6, 2021
"He's got all the tools. You forget how young he still is," Doughty said of the young LA Kings defenseman last night. "He's gonna be a great player for us. Couldn't be more happy with the way he's progressed. He's a great player, great guy. Everyone loves him. Yeah, he just needs to keep growing, and I think he could be a star in this league one day."
Speaking of McDavid, No. 97 was ejected with just over six minutes remaining in the game for boarding Adrian Kempe.
— Eric (@kingsgifs2) December 6, 2021
After the game, Oilers' head coach Dave Tippett described the play as McDavid "nicking" Kempe, which is… something.
Here's @EdmontonOilers Dave Tippett on @cmcdavid97 5 minute major for boarding and game misconduct "the guy turns out to him. Connor nicks him. They said he(Kempe)was hurt and he's out on the next pp. I'll have to look at it again"

— Gene Principe (@GenePrincipe) December 6, 2021
Tonight's opponent, the Vancouver Canucks cleaned house yesterday, relieving their general manager, assistant general manager, head coach, and assistant coach.
Francesco Aquilini, Chairman and Governor NHL, Vancouver Canucks, announced today significant changes to the team's front office and coaching staff, and confirmed a search for new Hockey Operations leadership is underway.

DETAILS | https://t.co/J3rbN9Rmp3 pic.twitter.com/AGCKoS58wO

— Vancouver #Canucks (@Canucks) December 6, 2021
The Canucks have gotten off to a lousy start this season, but the Kings have to be careful not to overlook them, especially after an emotional win against Edmonton.
Jets captain Blake Wheeler notched two assists while skating in his 1,000th regular-season game as Winnipeg improved to 9-3-1 on home ice this season and handed the Maple Leafs consecutive losses for the first time since October.
Max Pacioretty (4-3—7) and Mark Stone (1-5—6) each extended their point streaks to five games as the Golden Knights remained perfect in seven all-time home meetings against the Flames.
The Washington Capitals hosted a clinic for hockey players with disabilities after a pause in the annual event last year amid the COVID-19 pandemic. Your feel-good story of the day!
"It's so exciting to see them back on the ice again together and then having this opportunity for them to actually be with the Caps and actually feel like they're part of the hockey community," ASHA executive director Jen O'Brien said. "It's a really big piece of all of this that we're trying to do and let them know they're also able to play and grow their skills and bring some of their creativity back to the game for everybody."