LA Kings' Sean Durzi Reflects on NHL Debut: "It Was Awesome"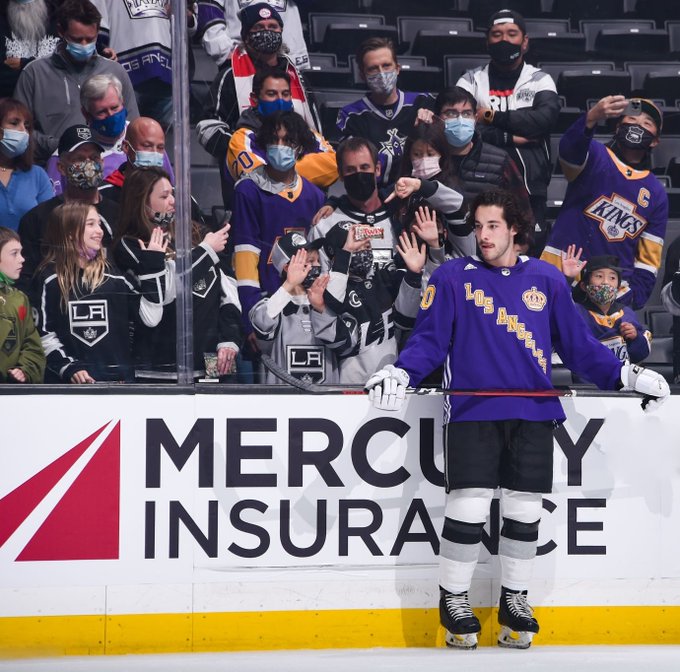 LA Kings defenseman Sean Durzi made the best of his NHL debut with a goal and an assist and spoke about it after the game.
It was certainly not the end result the LA Kings were hoping for.
Hosting the Toronto Maple Leafs on Wednesday night, the Kings were hoping to put an end to their four-game losing skid. Unfortunately, the Leafs proved early and often that that wasn't going to be the case.
While the Kings certainly did what they could to make the early going of the contest a close one, the Leafs were simply too much, winning by a convincing 6-2 count to extend the Kings' losing streak to five games. But, it wasn't all bad for the home team on this night.
Following a solid developmental progression in the AHL, defenseman Sean Durzi finally earned a chance to make his NHL debut. So, while his team may not have had the greatest game overall, the 23-year-old certainly made the best of his opportunity, potting an assist early and then, late in the game, scoring his first-career NHL goal.
Durzi spoke to the media after the game about his achievements but also his comfort level prior to and during his debut.
"It was nice," the blueliner said of scoring his first NHL goal. "Obviously, you know, every time a hockey game I thought to get out of the way was good. I thought that there's a lot of clean-up, but yeah, it was a really good feeling."
What made Durzi's debut even more special was having his family in attendance, including his mother, who jettisoned to Los Angeles from her vacation only to experience what every proud hockey parent wants to witness.
"It was awesome," Durzi emphasized. "It was kind of last-minute — Mom kind of made her way from the Dominican Republic — but it was special to have them here. They've gone through a lot with me, [they're] my biggest support group. My girlfriend's here, too, which is great, and yeah, it was nice to have them here."
If your mom doesn't happy cry when you score your first NHL goal, it doesn't count. Isn't that right, @SeanDurzi? pic.twitter.com/7XEo51MPDh

— LA Kings (@LAKings) November 25, 2021
Durzi then reflected on the hours leading up to his debut. The Mississauga native received a plethora of support from his new teammates, including one who has had an enormous impact on the ice in recent weeks.
"Yeah, the team was really good about it," Durzi noted. "Throughout the day, [Brendan] Lemieux actually sat down with me before the game, too, and just said a couple of nice words, which I thought was– really calmed me down a little bit. But, great group, obviously. That's all I wanted, especially for my first game, but I thought a lot of the guys, especially the leaders — you know, Kopi, Brownie, I can say a lot of names on the list — but the team was really good about it and [they] made it as easy as possible for me."
As for his two points on Wednesday, both came on the power play. Durzi addressed how it felt producing with the extra attacker.
"Good. I mean, a lot of good players on that power-play unit," he said. "I was lucky enough to get that first shift with them and then even the second one, so kind of tried to make the most of it. I mean, talk about the hockey IQ on the unit, skill, everything. So, it was good with the extra man and it went well.
"You know, with my game, [I] kind of just try to focus my play away from the puck and try to– that stuff comes, I think. You know, I'm going to get the opportunity on the power play, which I did tonight, and try to just let my hockey IQ just take over in that area. Going into a game like this, just kind of focused on being reliable, you know, talking, having the confidence to talk to different guys, and just awareness. It happens a lot faster here and I think I tried to do a really good job of that."
So, now that that all-important first game is out of the way, Durzi was asked if playing at the NHL level will get any easier.
"I don't know about easier, but just [a better] comfort level, probably," noted the 23-year-old. "As relaxed as I could be, still pretty nervous for a game like this. I think having the support group on the team that gave me the confidence helps, but still not the level where I want it. Getting a couple of points kind of gives me a little bit of confidence, but in a 6-2 loss, you still want more, you still want to be able to contribute in all aspects — penalty kill power play, 5-on-5 — and you want to be reliable. That's the end goal. The comfort level's definitely gone up. I think every shift throughout the game, even though it was garbage time towards the end of the game, it was a little bit better, but I'm not close to where I want to be."
And for those who forgot — or are unaware — of how Sean Durzi joined the LA Kings organization, he was acquired in Jan. 2019 with Carl Grundstrom and a draft pick used to select Tobias Bjornfot from none other than the club's Wednesday-night opponent, the aforementioned Maple Leafs, for Jake Muzzin. So, while having a comfortable lead may have helped, the Leafs took a moment to be self-depreciating in congratulating their 2018 draft pick via Twitter:
https://twitter.com/MapIeLeafsPR/status/1463744374295126021?ref_src=twsrc%5Etfw%7Ctwcamp%5Etweetembed%7Ctwterm%5E1463744374295126021%7Ctwgr%5E%7Ctwcon%5Es1_&ref_url=https%3A%2F%2Fhockeyroyalty.com%2F2021%2F11%2F25%2Ftwitter-reacts-to-sean-durzis-debut-first-goal-in-la-kings-6-2-loss-vs-leafs%2F
While it was certainly not the end result they were hoping for, the LA Kings certainly had a silver lining (pun intended) from Wednesday night.
In recent years, the Kings have been lauded for their deep farm system, and Sean Durzi is just one of those reasons why. With his goal, he became the 22nd player in Kings history to score in his NHL debut and the first defenseman for the club since John English back in 1988.
The Kings will hope to get back into the win column on Saturday when they play host to the Ottawa Senators. Whether Sean Durzi can help end that skid remains to be seen but regardless, we can expect another quality effort from Los Angeles's new blueliner.
Twitter reacts to Sean Durzi's debut, first goal in LA Kings' 6-2 loss vs Leafs