LA Kings: Why the Sean Durzi-Olli Maatta pairing can be successful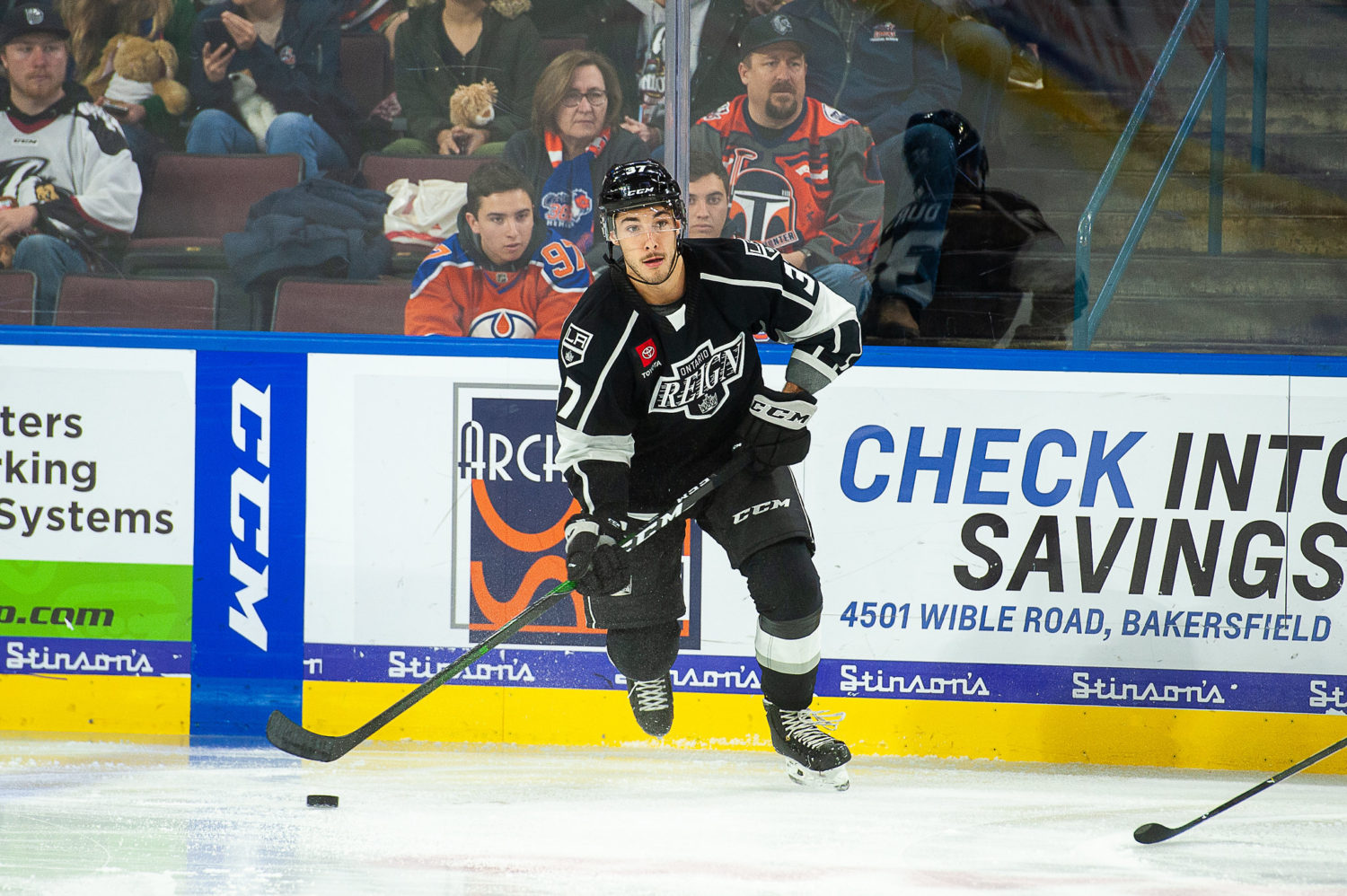 Sean Durzi was with Olli Maatta on the LA Kings defensive pairings on Tuesday. Based on similar comparisons, the duo can be a success.
The LA Kings recalled Sean Durzi from the Ontario Reign on Tuesday, with head coach Todd McLellan indicating "there's a real good chance that Sean will play [on Wednesday]." If all goes to plan, Durzi will make his NHL debut against the team that traded him to Los Angeles in January 2019.
"He's been a real good student of the game since he's been with the organization, he's put his time in and done real good things as far as development goes at the American League level, he's off to a good start there," McLellan said. "He's had some good practices with us, and there's a good chance he'll be in the lineup tomorrow."
Blocked by a stacked right side of the defense at the NHL level, Durzi didn't have a clear path for regular playing time or even an opportunity for a glimpse with the Kings – until now.
With the injuries to Drew Doughty and Sean Walker, the Kings have been piecing together their D corps to find the right mixture of defensive responsibilities while trying to provide more offensively, which was a significant talking point for McLellan at the end of last season and carrying over into this season.
Durzi was skating with the club in Tuesday's practice, primarily paired with veteran D-man Olli Maatta. Here's how the defensive pairings looked, per LA Kings Insider.
Edler – Roy
Bjornfot – Anderson
Maatta – Durzi
Clague – Doughty*
* Doughty skated in a red non-contact jersey
Of course, the former second-rounder in 2018 is expected to get a look on the powerplay, a strength of his down in the AHL.
"If Sean plays, he's likely to get some time on the power play, it's what he does well," McLellan added. "It makes no sense to bring him up and not give him that opportunity. He may not be the number-one unit guy, but he may see that secondary time, and if things go well, we can always flip it. That's what his forte is, puck movement, good vision, creating with his shot, especially with a man down. If we're bringing him up, we might as well use him in that situation."
While Maatta has left a lot to be desired during his tenure in Los Angeles, he could end up being the perfect partner to help Durzi ease into the NHL. For starters, Maatta won two Stanley Cups with the Pittsburgh Penguins and has nearly 80 games of postseason experience.
Maatta also spent a considerable amount of time playing with Walker last year, and a strong argument can be made that Walker and Durzi have a similar style of play. Both puck-moving defensemen featured on the powerplay, Walker and Durzi posted similar numbers in their last two years in the AHL.
Sean Walker
Season
GP
G
A
PTS
+/-
PIM
PPG
GWG
SH%
2018-19
22
6
11
17
5
18
1
2
7.7
2017-18
64
7
21
28
17
59
3
1
4.3
Sean Durzi
Season
GP
G
A
PTS
+/-
PIM
PPG
GWG
SH%
2021-22
13
5
11
16
13
20
3
2
22.7
2020-21
39
4
16
20
1
32
1
1
6.7
The elephant in the room is Durzi's 22.7 shot percentage, and hopefully, he feels confident enough to shoot the puck if given the opportunity.
Backing up just a bit, Maatta and Walker accounted for 50.6 expected goals-for (xGF%) in over 300 minutes on-ice together in the shortened 2021 schedule, per MoneyPuck.com.
One step further, for all pairings with at least 100 minutes time-on-ice, Maatta and Walker had the highest xGF per 60 minutes (2.25).
The two played together toward the latter half of the season, which if you recall is when Sean Walker began to display more offense, jumping into the rush and finishing with four goals and 10 points over the final 13 games.
Nobody is expecting Durzi to come in and pick up where he left off in the AHL. There will be an adjustment period, and while I was initially opposed to the idea of Durzi pairing with Maatta, a deep-dive has me feeling somewhat confident that the two can be a success. Let's see how that translates to the ice.
Sean Durzi back up with LA Kings, on track for NHL debut vs Leafs