Adrian Kempe on the LA Kings' Perseverant Win vs. Blues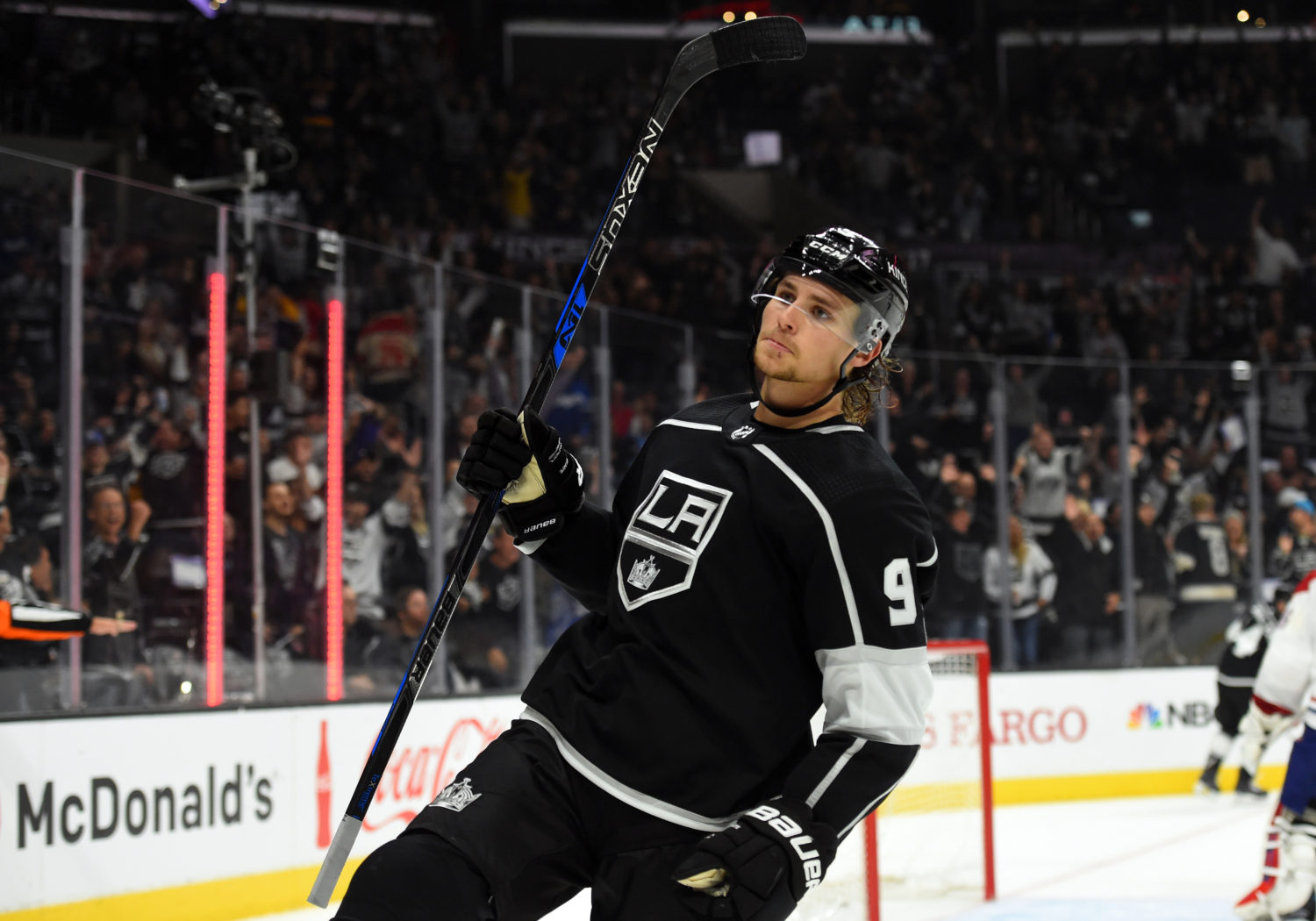 After a slow start, the LA Kings have won three straight after beating the Blues. Adrian Kempe spoke with the media after Wednesday's win.
Don't look now but the LA Kings are on a bit of a roll after earning their third-straight victory on Wednesday night.
After a sluggish 1-5-1 start to the campaign, the Kings are now just one game under .500 thanks to, most recently, a resilient victory against the red-hot St. Louis Blues. Having lost their first two matchups to the club in the Gateway City, the Kings were hoping that a little home cooking would help turn the tide in their rivalry with the Blues. That dose of home cooking was just what the doctor ordered on Wednesday as the Kings capped off their third come-from-behind win in as many games, defeating the Blues 3-2 in the shootout.
Among those factors for the silver-and-black's recent winning ways has been the play of Adrian Kempe. With his goal on Wednesday night, the 25-year-old registered his fourth point in his last four outings. Yet, while his goal was just a few seconds shy of standing as the game-winner, Kempe added to his totals — albeit not officially — with a goal in the shootout.
Following Wednesday's victory, Kempe spoke to the media about his team's efforts against St. Louis. This included being forced to regroup after surrendering their lead with just seven seconds remaining in regulation.
"Yeah. I mean, obviously, that's not what we wanted, first of all," Kempe admitted. "Obviously, we wanted to end it in the first 60 minutes, but I mean, we came back from being down 1-0 in the third period. So, I mean, we told each other on the bench, 'Hey, let's keep going here. We're going to get our chances in OT, and if not, we have good players to finish it in the shootout,' so it was nice."
Giving up such a late lead can be demoralizing for any team, especially against one as good as the Blues are. The Kings, however, were undeterred. While the two points were snatched from their claws, so to speak, the Kings players weren't content to cry foul. Instead, they refocused.
"I think everybody felt that we were– I mean, we still have a chance to win the game," Kempe noted of his team's attitude after the Blues tied it. "We can't just hang our heads right now. Anything can happen.
"I think it's really fun to play, and it's [a] good opportunity to show that you really want to be out there a lot more and you can show your skills and stuff like that."
And that is exactly what Kempe and the Kings did. Not even squandering an otherwise-glorious opportunity by Phillip Danault late in overtime could deter the silver-and-black. While the shootout is traditionally a time of great stress, the Kings were cool and composed, led by Kempe, who fired home the first shot.
Of their four opportunities in the extra frame, the Kings scored three times, with Alex Iafallo and Arthur Kaliyev also scoring. But, if the first period was any indication, it didn't appear as though the Kings weren't going to be very competitive on this night. In fact, the silver-and-black looked sluggish to start the game, setting a disappointingly low tempo to the contest early on.
"Yeah, I think we still did some good things. We just didn't– when we had the chance to shoot it and stuff like that, we rather wanted to pass it up, and they were coming with a lot of speed in the first period," Kempe explained. "It wasn't our best period, but I think we still did get some good stuff, and they had a lot of chances, but we didn't capitalize in the offensive zone as much as we wanted to, as much as we did in the third period."
Despite their slow start, though, the Kings kept up with the Blues, increasing their defensive awareness to keep the Blues at bay. After 40 minutes, Los Angeles trailed 1-0. But, like their outings on Saturday and Sunday, the Kings, while down, were far from out. This led to a third period where the Kings took control of the game — scoring twice along the way — for at least the first 19:52 of the stanza.
"The first two periods, I think we did a good job, but we didn't really get a lot of chances in front of the net and stuff like that, and I think when we were looking at the third period, we were throwing more pucks there and getting more opportunities, and up with a couple goals, too," Kempe observed. "So, I mean, that was good. We know they're really hard to get to play against — their special teams and 5-on-5 game's really good — and it took a while before we figured them out, but I mean, came up with a win, so it's good."
In any case, the Kings on Wednesday night looked like a much different team than their previous two games against the Blues, where they were outscored by a 10-3 margin.
"Well, first of all, we didn't [penalty] kill as much today as we did in those games," Kempe pointed out. "So, that helped a lot. I think, just overall, in 60 minutes, I think we played solid, we didn't give up as much as we did in St. Louis. We looked at the chances they had against us when we played there, and we minimized those, for sure. They're still a good team, they're going to get chances, but Quickie was standing on its head, as usual, in some situations, too, and we made a good push in that last period and it got us two points."
The LA Kings are riding high, making the most of their current homestand. It is not over yet, though. Next up for the silver-and-black is the New Jersey Devils, who will pay a visit to STAPLES Center on Friday night.