Three key takeaways in LA Kings' 3-0 loss vs Blues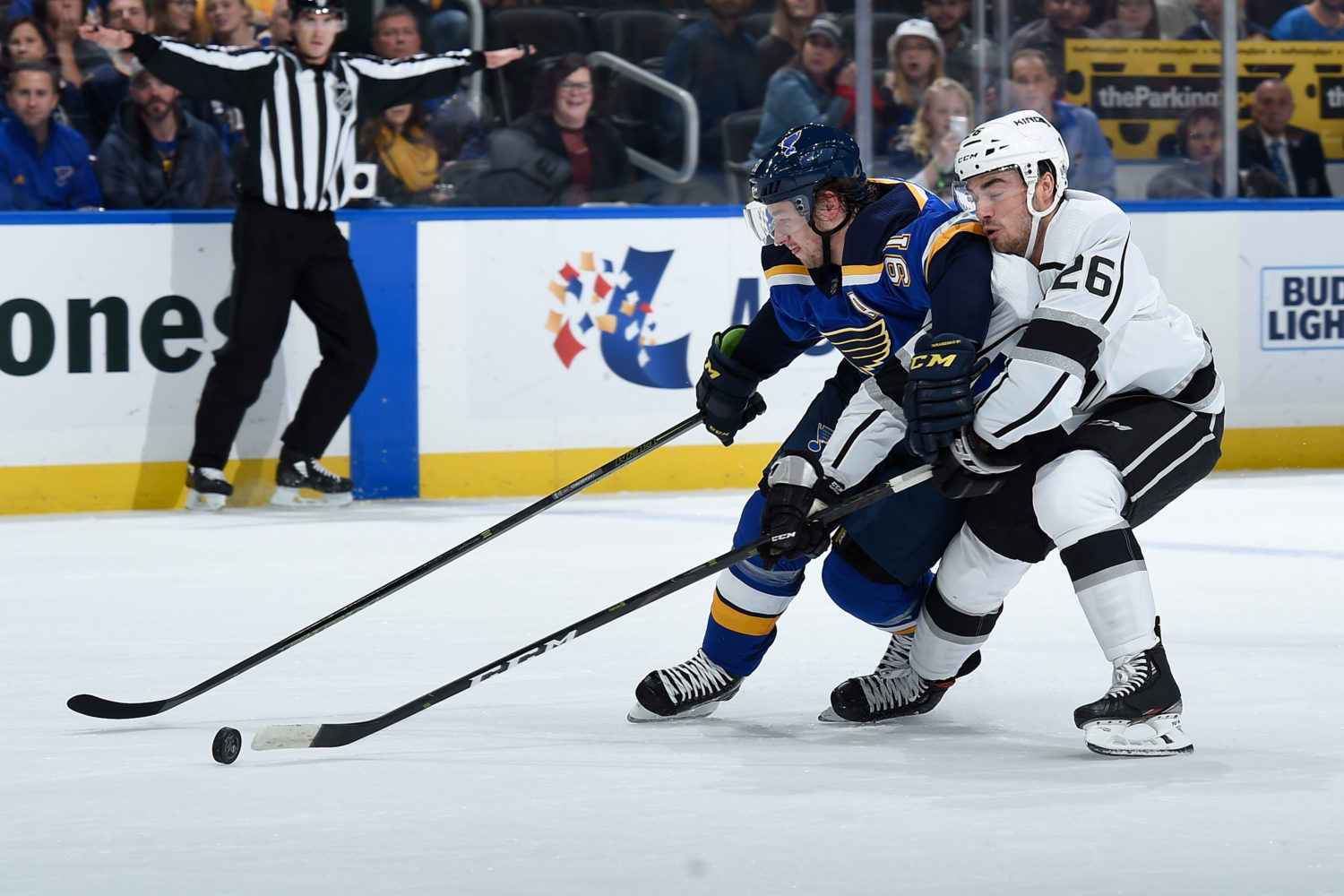 The LA Kings lost more than just the game against the St. Louis Blues on Monday night.
In the final game of a four-game road trip, the LA Kings were shutout 3-0, falling to a 1-4-1 record on the 2021-22 season. On the flip side, the St. Louis Blues started 5-0-0 for the first time in their storied franchise. The Kings will head back home for a five-game homestand against Winnipeg, Montreal, Buffalo, St. Louis, and New Jersey.
Here are three key takeaways from Monday's loss.
1. Sean Walker's injury adds yet another challenge
Kings defenseman Sean Walker got his right leg tangled with Blues forward David Perron with under four minutes remaining in the first period. The play happened on the opening faceoff of Los Angeles' first penalty kill of the game. The replay showed that Walker's leg was bent in a manner that legs aren't supposed to be bent.
He was helped to his feet by team trainer Chris Kingsley and Anze Kopitar, but Walker was unable to put any weight on his leg as he headed down the tunnel.
— Eric (@kingsgifs2) October 26, 2021
The injury comes three days after the Kings lost Drew Doughty to a knee injury against the Stars on Friday night. The initial report on Doughty revealed a mild knee sprain, which will be confirmed when the team arrives back in Los Angeles on Tuesday. However, with Walker likely out for the foreseeable future, who gets the call from Ontario?
Sean Durzi? Jordan Spence?
The Kings can't seem to score much of anything right now – you would ideally prefer a defensive prospect with some offense to his game.
2. Jonathan Quick gave the Kings a chance
Say what you want about Jonathan Quick, but he allowed the Kings to stay in this game, stopping all 18 shots he faced in the first period in what felt like a carryover from Saturday. In all, the future Hall-of-Famer made 32-of-34 saves, getting beat twice by Vladimir Tarasenko in the third period.
However, his performance in the first period allowed the Kings to close the gap in shots on goal in the second period.
"We were on our heels a little bit – I think we were afraid to make mistakes," Todd McLellan said after the game. "Once we got through that, much better effort from everybody, starting with Quickie in goal to keep us in it early. After that, we were able to play four lines and we competed with them. But we have to score a goal obviously to win, and there were a couple of individual mistakes that cost you."
Quick took the loss for this one, but he has a .908 SV% through his first three starts. The Kings need to find a way to back their goaltenders with some offense.
3. Who is going to step up and be a contributor?
Carried by Anze Kopitar's production, that always plays both ways when he's not scoring. And it's not just him – when the Kings' first line isn't scoring, they have difficulty lighting the lamp, as exemplified on Monday night. Los Angeles desperately needs someone or a couple of someones to step up and score some goals.
I thought Rasmus Kupari played his best game in an LA Kings uniform on Monday. He had a nice drag and pull move, but Blues' netminder Ville Husso stopped his shot. Those dangles, unfortunately, don't make the score, despite them sticking out in my head.
The Kings went 0-for-3 on the powerplay, dropping their season conversion rate to 19.0. Since last Monday, Todd McLellan's group has gone 1-for-15 on the man advantage. If we're counting moral victories, I thought Gabe Vilardi and Arthur Kaliyev looked great on the second power play unit. The latter had a terrific opportunity in the slot on a pass from Vilardi during the third period, but Kaliyev's shot was blocked.
Husso save on Kaliyev: https://t.co/4FbPV4OWEY#LAKings #GoKingsGo #stlblues #LAKvsSTL pic.twitter.com/gLPLCWepDB

— Eric (@kingsgifs2) October 26, 2021
You can't lose the Stanley Cup in October, but the Kings have buried themselves quite the hole. Of course, no one is expecting them to make the Stanley Cup Finals this season, but the playoffs were the goal going into the season as they should have been, given the offseason moves. Let's see how they respond at home.
Is it a season-saving five-game homestand? We'll see.
The LA Kings and Winnipeg Jets play on Thursday, with puck drop set for 7:30 pm PT.