Three takeaways from LA Kings' 7-3 loss to Blues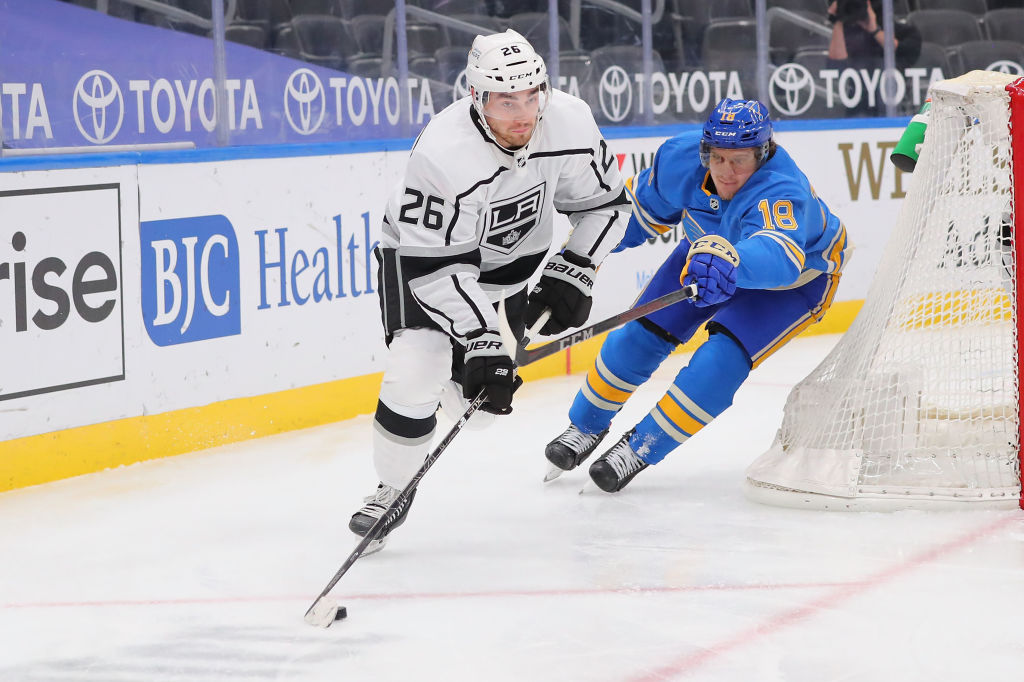 Despite scoring first again on Saturday night, the LA Kings were embarrassed at the hands of the St. Louis Blues.
In the first game post-Drew Doughty injury, the LA Kings were flat out embarrassed by the St. Louis Blues in Saturday's 7-3 loss. The Kings have scored first in four consecutive games, with Alex Iafallo notching his first goal of the season. But, it was all Blues from there.
David Perron collected two of his three goals on the powerplay en route to his first hat trick since December 16, 2019.
Here are some key takeaways from the contest.
1. Special teams needs a lot of work
With Drew Doughty out of the lineup, the question transitioned to who would take those minutes both on the powerplay and the penalty kill. Matt Roy was given the opportunity on Saturday, which is somewhat surprising, considering he's not known for his offense.
After the Iafallo goal in the first period, things started to go south when Gabe Vilardi took a tripping penalty on Vladimir Tarasenko. I'm not even sure Vilardi had time to sit down in the box before David Perron evened up the score at one goal apiece. And about four minutes later, the Kings gave up a shorthanded goal. Blues' captain Ryan O'Reilly also added another power play goal in a three-goal second period for St. Louis.
5-1 (PPG) O'Reilly(2)-ASST: Schenn(3), Perron(2): https://t.co/VPujcKVhc0#LAKings #GoKingsGo #stlblues #LAKvsSTL pic.twitter.com/0SqJyOVGY7

— Eric (@kingsgifs2) October 24, 2021
Over the last three games, the Kings have converted on just 1 of 12 powerplay opportunities. Likewise, they haven't been great at killing penalties off, giving up seven goals on 13 opportunities, including 4 of 7 on Saturday. Doughty's absence was apparent, and the Kings will have to scramble fast to figure some things out.
2. Iafallo had a strong game
Donning the "A" in place of Doughty, Alex Iafallo got the Kings on the board 11:29 into the first period. The Eden, New York, native put back a rebound off an Alex Edler shot. Later in the period, he also had a partial breakaway that was stopped by Blues' netminder Jordan Binnington.
ALEX IA-FOLLOWS IT UP WITH A KINGS GOOOAAAAALLLLLL🚨#GoKingsGo I @LAKings pic.twitter.com/khoLyQMKij

— Bally Sports West (@BallySportWest) October 24, 2021
And trailing 6-3 in the third period, Iafallo had a really good look in front of the net that almost got away from Binnington for Kaliyev, who was waiting for a rebound. Moments later, Iafallo collected a rebound from Mikey Anderson's shot and whipped it toward the net. Unfortunately, that, too, was stopped. But, you have to love the effort nonetheless.
3. Drastic changes coming?
Kings head coach Todd McLellan shuffled the lines after trailing 6-1. LA showed a brief response in the third period with Dustin Brown notching his second goal of the year and Carl Grundstrom collecting his first. Still, every line should be evaluated going forward.
As noted, the Kings have been top-heavy, with their first line doing the majority of the scoring. Might we see Viktor Arvidsson pulled off the first line and moved to the second line with Iafallo going back up to the top line? Could Arthur Kaliyev get a look alongside Kopitar?
Again, everything should be taken into consideration. Might they look to Ontario for players hungry to prove themselves? The Kings have just one point through the first three games of the four-game road trip. A lot of questions with very few answers right now.
These same two teams will meet again on Monday at 5:00 pm PT.