"A Dream Come True" for Jordan Nolan in Return to LA Kings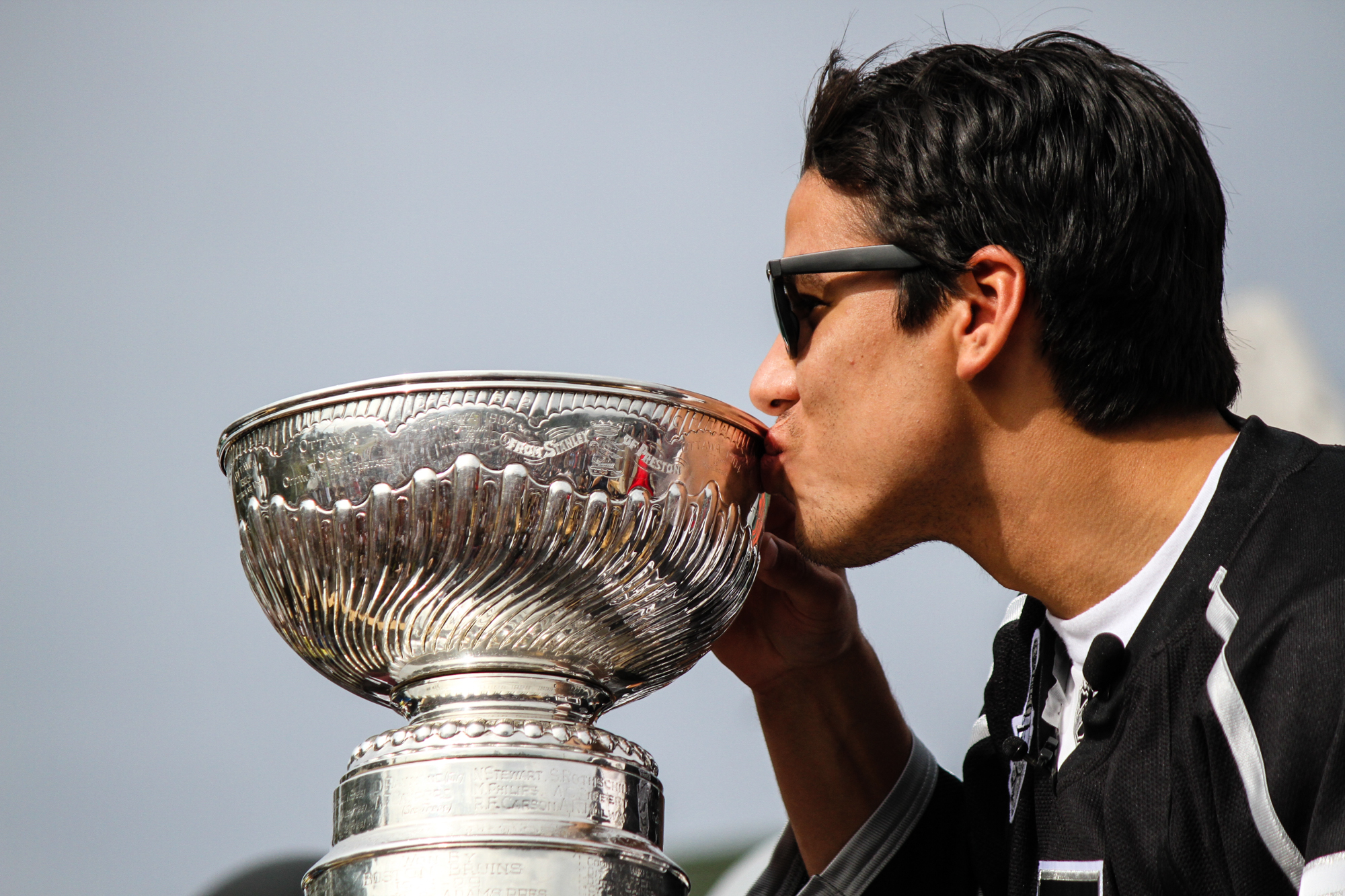 Jordan Nolan is back with the LA Kings, and he spoke about it with Patrick O'Neal during the club's Saturday-night contest vs. the Wild.
While we have spoken plenty about the additions of Phillip Danault, Viktor Arvidsson, and Alex Edler, the LA Kings have another new, albeit more conversant, face joining the organization.
Having played with the organization from 2011 to 2017, Jordan Nolan is very familiar with the LA Kings. That familiarity will become re-ignited after the organization hired the 32-year-old as a community relations consultant and ambassador.
During the Kings game on Saturday night against the Minnesota Wild, Nolan spoke with Patrick O'Neal of Bally Sports West. To start, O'Neal asked the former King about his new role and how it feels being back in the City of Angels.
"A lot of fond memories," Nolan beamed. "It's nice to be back in LA. But, I just remember being a young kid, just kind of enjoying [the experience]. When we were in the [2012] Finals there, I didn't even know what was going on. I was just happy to be there and happy to be part of the team, and a couple of days later, we won the Cup. So, it's nice to be back."
Nolan then took some time to elaborate on his new role with the Kings.
"Just really get involved with the community, trying to grow our game in southern California," noted the former center. "I was lucky enough to skate with the Power Project [on Saturday]. The Hawthorne P.D. put a great job on and getting these girls to come out and really just kind of teach them the game and just give them a great experience tonight at the game.
"It's a fun time working with these girls. They have fun, we have fun, and they [were at the game on Saturday], so yeah, it's great."
LA Kings: Adrian Kempe on Thursday's Win and Phillip Danault
While he did enjoy being back on the ice, Nolan was quick to admit that it had been a while since he donned a pair of skates.
After just two games with the AHL's Wilkes-Barre/Scranton Penguins in 2020-21, Nolan hung up his skates. But, after roughly a year since then, being on skates again marked an adjustment for the former Soo Greyhound.
"That was the first time I've been on the ice since my last game, so it was a little different," Nolan admitted. "[I had] Olli Maatta's skates, I believe, but it's nice to be on the ice and work with the kids again."
From an overall standpoint, Nolan will be involved in a plethora of the club's initiatives and programs. Additionally, he will hold an important role in 'We Are All Kings.' This is the team's special programming initiative that will reflect the values the Kings possess at their core. One of those is inclusiveness — this while ensuring that every hockey player and fan feels welcome in the Kings family.
Above all else, Jordan Nolan is a proud member of the First Nations community. O'Neal asked the former King how he plans to help to grow the game from an inclusion and diversity standpoint.
"This is something that's been important to myself and my family throughout my whole career, my whole life," Nolan emphasized. "So, to come [to] LA and work with these kids, these inner-city kids, and help grow the game in southern California has always been near and dear to my heart. But, like I said, I love this city and this organization. So, to come back and to work with the Kings in this department kind of seems like a dream come true."
Of his 375 regular-season games played, 292 of those games were played with the LA Kings. More significantly, Nolan was integral in helping the club win the Stanley Cup in 2012 and again in 2014. Those are just some of the memories that encourage a tongue-in-cheek Nolan to think about rejoining the silver-and-black as a player.
"It's not official yet. I saw [Brendan] Lemieux go down today, so I thought I'd get a call," joked the Garden River First Nations, Ont., resident. "But yeah, the hope's still there, but no, I'm excited at this opportunity. And yeah, we'll see where it goes."
Overall, the LA Kings are doing top-notch work off the ice in the arena of inclusion and diversity. From Blake Bolden to longtime team ambassadors Daryl Evans and Derek Armstrong and now with Jordan Nolan, the Kings are doing wonders with the community. This includes the aforementioned 'We Are All Kings' initiative, encouraging those from all walks of life that they fit in.
As we see more of these positive changes in our society, the Kings are keeping up with the times. Frankly, that is something every fan of the silver-and-black should be immensely proud of.
Congratulations to Jordan Nolan on his return to the LA Kings, and here's to a successful post-playing career ahead.