LA Kings: Anze Kopitar talks powerplay, poise of teammates in win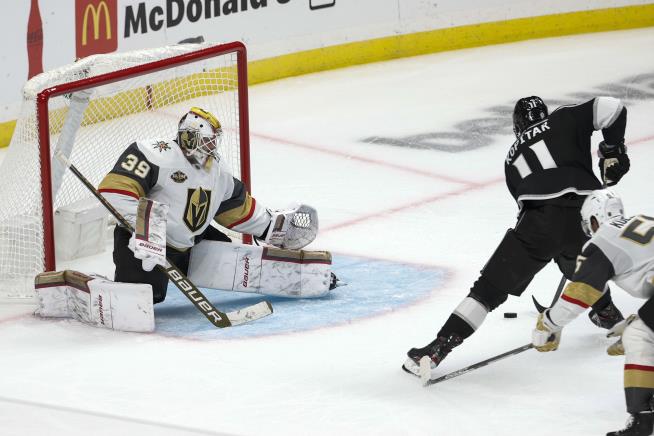 LA Kings captain Anze Kopitar scored a hat-trick in Thursday's win over Vegas, with one of his goals coming on the man advantage.
On a night where the LA Kings featured some younger players in their lineup, the veteran core willed the team to a 6-2 victory. Team captain Anze Kopitar recorded a hat-trick in the contest, his first since March 22, 2018, when he tallied four goals against the Colorado Avalanche.
Kopitar, 34, is entering his 16th year in the National Hockey League and sixth as the team captain. The last three seasons have, by no means, been great in terms of the overall standings as the organization went into a full rebuild. With that comes the trials and tribulations of losing veteran players and replacing them with younger players learning how to win and close out games.
Coming into the contest, Vegas was penciled in as the Pacific Division-favorites. The Kings went 2-6 against Vegas last year, but Kopitar noted there was a different feel to this group when the Golden Knights took a 1-0 lead nine minutes into the opening frame.
"I think a really good sign for us was when they scored a goal, and it didn't faze us too much," he said. "Because maybe in the past, that would have been speed wobbled that would turn into two or three [goals]. So, you know, just to show that the patience and not getting discouraged was a really good sign for us."
Dustin Brown scored the first goal of the year for the LA Kings, burying a rebound past Vegas netminder Robin Lehner who was chased after the second period. Kopitar and the Kings went to work after Brown's goal, with the Kings' captain and defenseman Drew Doughty scoring powerplay goals. As a team, LA converted on only 4-of-37 powerplay opportunities in April of last season, and they got off to a slow start in the preseason as well.
🚨Kopitar x2. 4-1 LAK

— Hockey Royalty (@Hockey_Royalty) October 15, 2021
However, they converted on both chances on Thursday night, providing a big boost of momentum for the home team.
"Yeah, we didn't have the greatest preseason with special teams," Kopitar admitted. "I mean, we were working on it this week, and tonight it clicked. We're just trying to not overcomplicate things and get the pucks to the net, and they went in."
With Phillip Danault handling more of the defensive responsibilities, Kopitar was able to jump into the rushes and create more scoring opportunities. On his second goal, he and winger Adrian Kempe led the odd-man rush up-ice, with the latter making a late pass to Kopitar, who sniped it past Lehner.
"I had a pretty good idea that he was gonna pass," Kopitar said of Kempe. "I didn't call for it, but it's one of those things where you know, there's a bunch of 2-on-1's that you go with, even in practice, you kind of know what the guy is going to do or not do. So, I was ready if the puck did come to let it go right away."
LA Kings' Drew Doughty reacts to team's 6-2 statement win vs Vegas