LA Kings: Alex Edler "Makes the Game Really Easy" for Sean Walker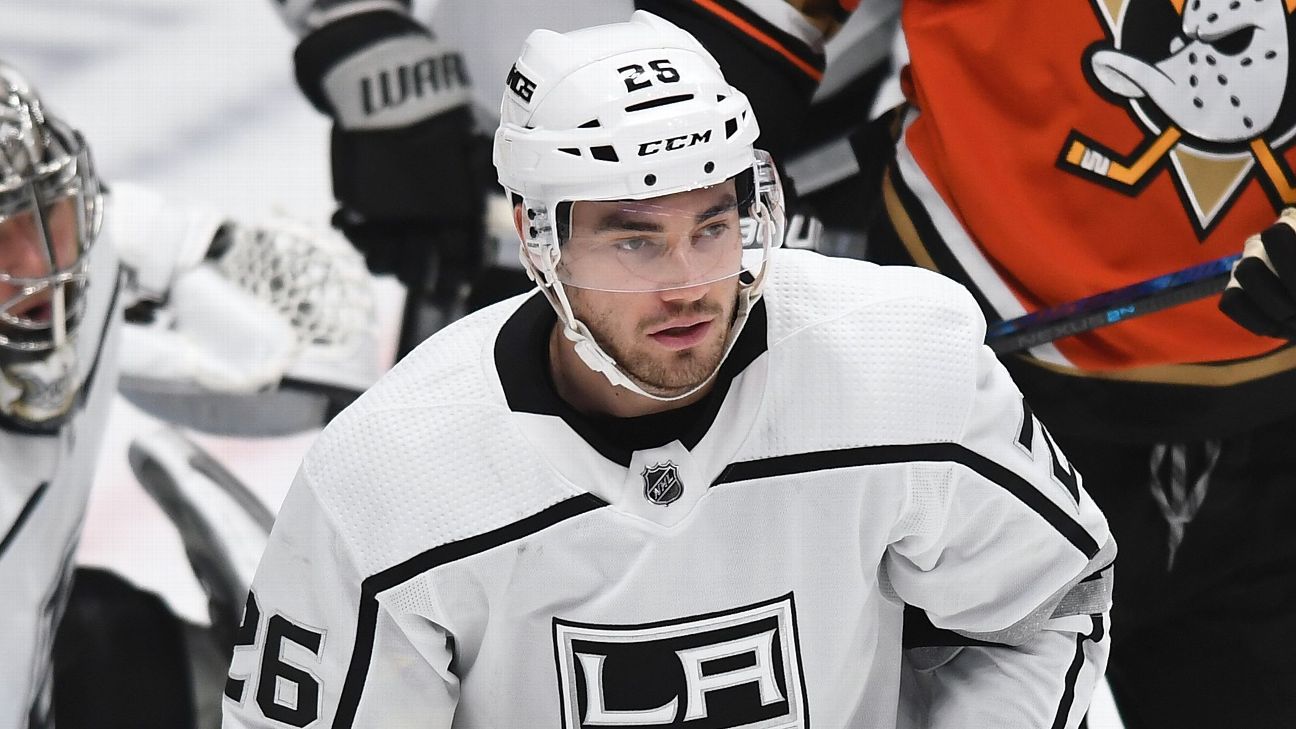 With the preseason now officially over, the LA Kings, including Sean Walker, prepare for the real season ahead.
They may not have finished it the way they wanted to, but the LA Kings' preseason is now officially in the books. Next up: the regular season — the NHL's first entire season since 2018-19 — and few are more excited about it than Kings defenseman Sean Walker, who spoke with the media following Saturday's loss to Anaheim.
In preparation for the new season, Walker has been paired on the blueline with a new face in veteran Alex Edler. The Keswick, Ont. spoke briefly about how his partnership with Edler has worked out thus far.
"Makes the game easy for me, so I'm really excited to play with him," Walker beamed. "He's an amazing player — obviously that's why he's been in the league for so long. Super strong [defensively], has high IQ, makes plays."
While he has averaged just nine goals a season throughout his 15-year career, it is noteworthy to mention that Alex Edler has also averaged 28 assists per season, establishing himself as a reliable set-up man. This is something that the offensive-minded Walker has benefitted from so far and should continue to do so.
"Going forward, I think you're gonna see us not spending a lot of time in our zone and hopefully creating offense," added the Keswick, Ont., native.
WATCH: Vladimir Tkachev just sniped an insane powerplay goal
As for his own game, Walker admitted that there is room to grow. He has some areas that he looks forward to addressing once the regular season kicks off.
"Try to maybe have some deception, get more pucks through, make more plays, use my legs when I can create offense. Just trying to do that on nightly basis," the blueliner noted. "You see, around the league… guys on the back end are doing that all over: skating really well, creating plays and stuff like that. So, I think I'm a good skater, and I believe I can do that, as well."
Since the preseason is now finished, teams around the league have some tweaks to adjust as the regular season looms closer. The Kings, of course, are no exception to this.
"Just kind of wrapping up the whole preseason, making sure structure systems there, kind of getting the final rust off, [then] we've got three more practices, and it's the real deal," Walker explained. "So, probably not our greatest effort tonight, but we've got some things to work on, and we'll be ready to go Thursday."
From the top of the roster down, there is a multitude of reasons to feel excited about the Kings' new season. You can bet that Sean Walker is among those. So, in due time, we will witness just how integral the 26-year-old will be to the success of the 2021-22 LA Kings.
Preseason Finale: LA Kings 3, Ducks 4 Shootout Notes and Takeaways