LA Kings: Martin Chromiak "Left a Teenager and Came Back a Man"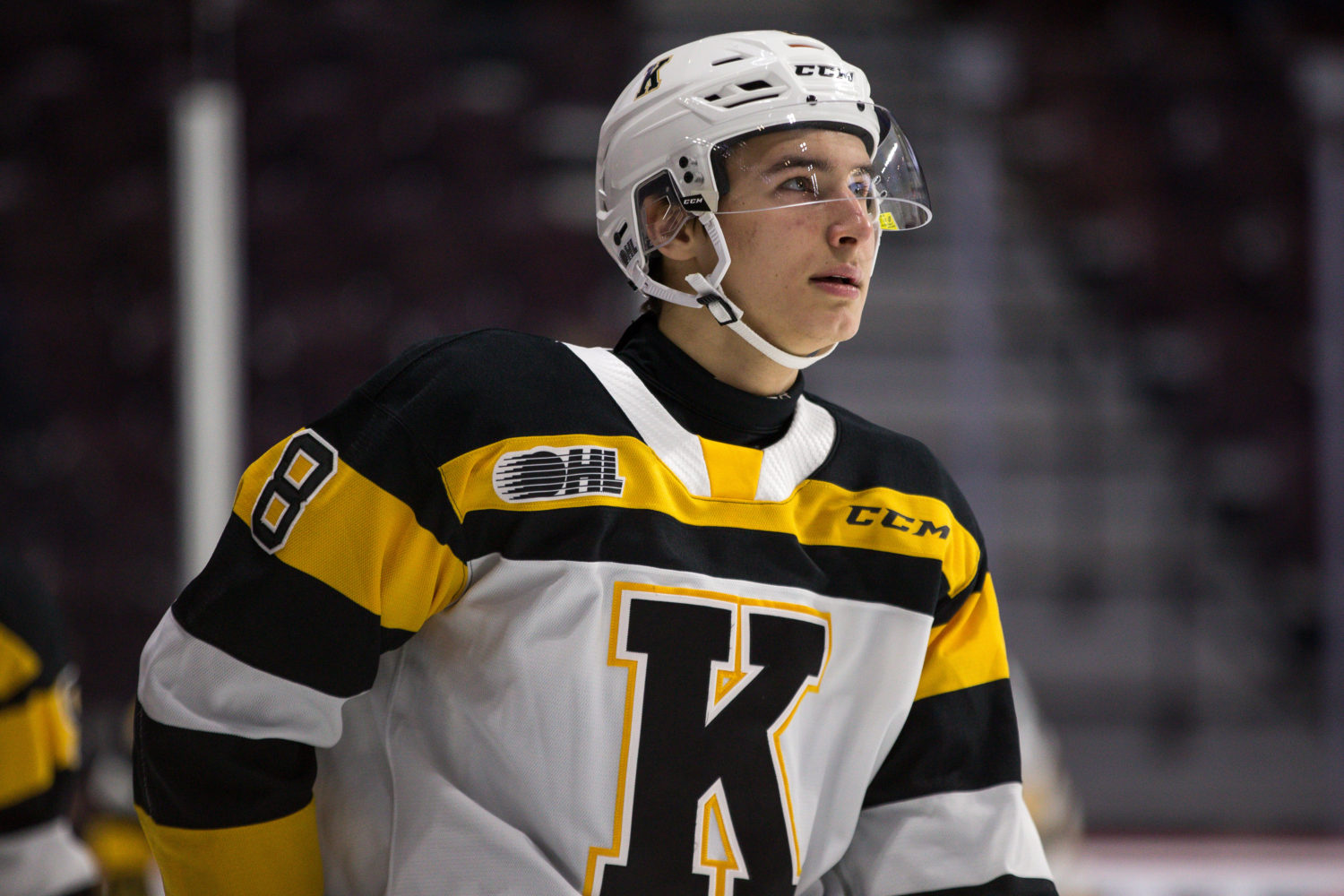 Fresh off signing an ELC with the club, LA Kings prospect Martin Chromiak has a scintillating NHL future ahead — just not right away.
After a very impressive training camp, Martin Chromiak showed the LA Kings that he's serious about making the big club. Unfortunately, the 19-year-old didn't make the club for this season. He was, however, rewarded with an entry-level contract last week. So, while some in his situation, may return to their major-junior or collegiate teams feeling disappointed, Chromiak returns to the OHL with some unfinished business.
This week, Chromiak returns to action as his Kingston Frontenacs open the 2021-22 season with few more excited than the club's head coach, Luca Caputi.
I spoke with Caputi earlier this week who filled me in on what he expects from the youngster this season.
"It's been tough because it's been a pandemic, so for the last 18 months, we haven't really seen him face-to-face," Caputi noted of analyzing Chromiak's game. "We've done some development calls with him, we were able to see him play in Slovakia a little bit last year but, to be honest, he left a teenager and came back a man. So, his physical maturity, that's very evident. We think that he's on the path to become one of the elite goal-scorers in [the OHL]. I say that with a grain of salt — obviously we haven't started playing yet — but he's on the right track and we're really excited about where he can go this year and who he can become while he's in Kingston."
LA Kings: 2021 Preseason organization prospect rankings, 10-6
As for his impressive showing in Los Angeles this past month, the Frontenacs' bench boss isn't surprised. More than that, any disappointment of frustration Chromiak has felt from being cut by the Kings, he has done an admirable job of concealing it. Instead, the Slovakian is determined to make his mark on the upcoming OHL campaign, hoping to strengthen his game on an individual level but, from a team standpoint, help the Frontenacs on their quest for their first J. Ross Robertson Cup (as OHL champions) in franchise history.
"Obviously, very evident the impact he had on [the Kings] as he was rewarded with a contract right away," Caputi observed. "So, he's signed there now but I think for him and his attitude, he just wants to get better every day, wants to be part of special here so realistically, his goal is to play in the NHL but for the most part, he's focusing on being an elite player in the OHL this season and help our group achieve something that no one has ever done around here. So, we're really looking forward to seeing development throughout the year."
Another incentive in returning to Kingston for Chromiak comes in the opportunity of playing with Shane Wright.
Wright is a favourite to be one of the — if not the — top pick in next year's NHL Draft. But, for the 17-year-old from Burlington, Ont., part of his raving success from 2019-20 — 66 points in 58 games — came with the help of Chromiak. After all, before the season was shut down due to COVID-19, Chromiak and Wright enjoyed great chemistry together and, while it has been over a year-and-a-half since the duo played together, Caputi is optimistic for what his youngsters can contribute together.
"[Chromiak] has a little bit of a unique chemistry with Shane as they played together for the three months before the lockdown, and I think that's something they can build off of as we start our journey here in 2021-22," Caputi said. "They have played together before, so it's not something that's foreign territory for either one of them. They're both eager to build off the chemistry they'd already built in 2020 before the world got shut down there for a bit. So, for us, and most importantly them, they buy into our team concepts. They will play together to start the year because they have that unique chemistry and obviously, were able to produce at the same time before we had the stoppage."
As for Chromiak, like Wright, he's more determined in helping his team win than collecting personal accolades.
"I just think that for our culture and where we want to go as a club, they both fit the mold perfectly," beamed Caputi. "They both are invested in what we want to do as a team. The personal gains are secondary to them, which I believe is huge. They're team-first guys and we talk about that a lot. The sky's the limit the both of them personally and I think they're going to help our team just as much as they gain personally."
Fans of the LA Kings may have to be patient to see Martin Chromiak don the silver-and-black but it will be nonetheless exciting to see what the club's fifth-round pick from 2020 can do with his major-junior team in what will be his first full season in Kingston.
Only time will tell but for Chromiak and head coach Luca Caputi, there are palpable senses of eagerness and excitement for a solid-looking Kingston Frontenacs club — and Martin Chromiak is an instrumental reason for that.
Chromiak, Caputi and the Frontenacs open their regular season this weekend — first on Friday, playing host to the Ottawa 67's; then on Saturday when they welcome the Mississauga Steelheads to town.