Sean Durzi on Rookie Faceoff: "Setting the tone for LA Kings season"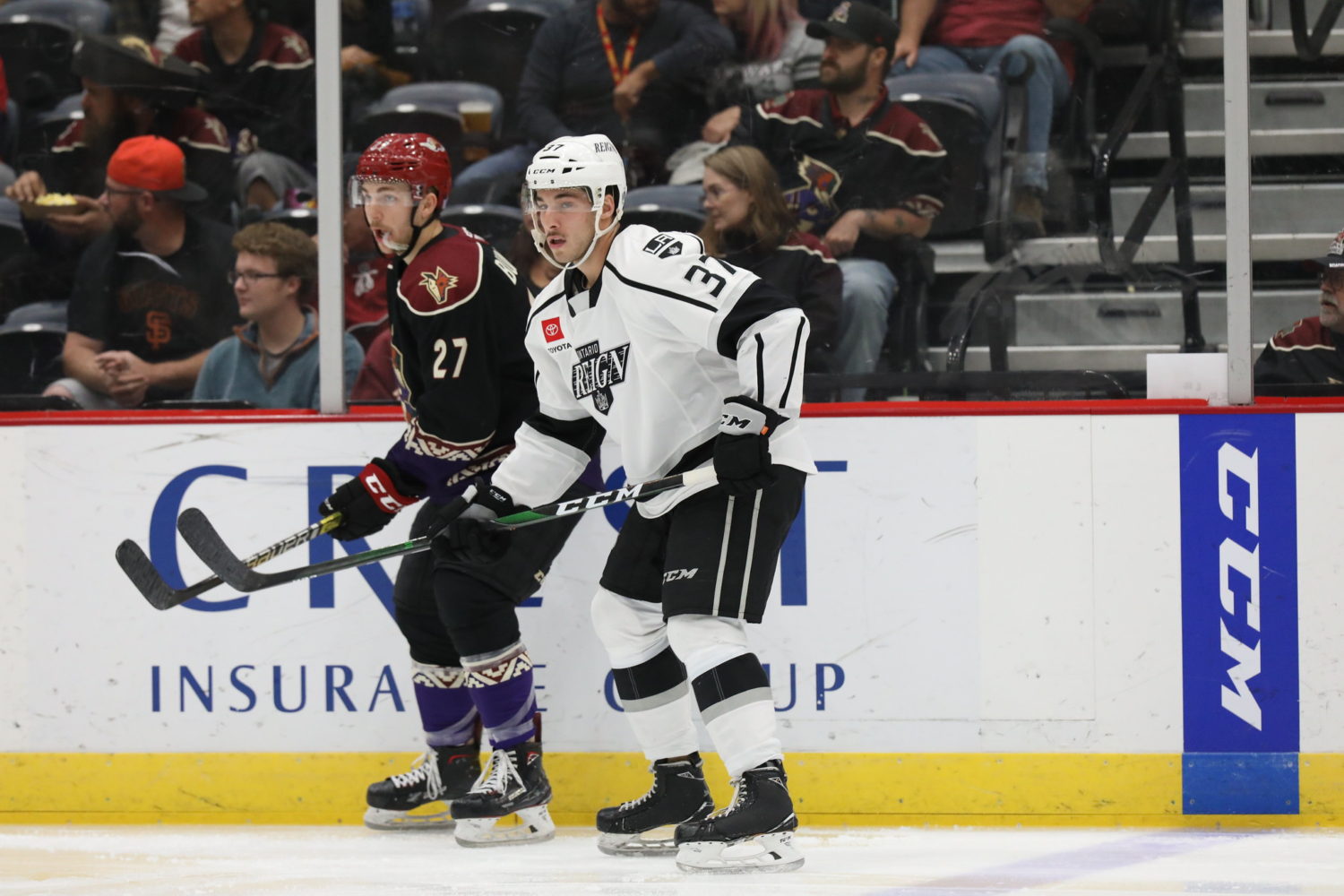 Sean Durzi, who wore the "C" at the Rookie Faceoff, stressed the importance of the tournament and how it will set the tone for the LA Kings season.
The LA Kings made an emphatic statement to start off the Rookie Faceoff tournament in Arizona, topping the Avalanche's rookies 4-0. Martin Chromiak opened the scoring just 1:07 into the contest on a dazzling tic-tac-toe play by Quinton Byfield to Arthur Kaliyev to Chromiak to give the Kings the early advantage. Chromiak's goal was one of two in the first period. Samuel Fagemo scored with two seconds remaining to give Los Angeles an extra boost of confidence heading into the first intermission.
Before Friday, the team had practiced just once leading up to the tournament, but, by and large, the group of players sent to Arizona gelled together under first-year head coach John Wroblewski with the Ontario Reign last year. And while Chromiak only played in two games at the end of the 2021 season with Ontario, the chemistry between Byfield and Kaliyev was evident from the get-go.
I could get used to this #GoKingsGo https://t.co/G97mIzmsNA

— Hockey Royalty (@Hockey_Royalty) September 18, 2021
"Yeah, that's a tough thing to do," defenseman Sean Durzi said about developing chemistry in a four-game tournament on the All The Kings Men podcast. "We had one day of practice before yesterday's game as a team, and it's a quick turnaround. I think a lot of the time, guys are relying on instinct and pure hockey sense in these games. But, I think the teams that have the most structure and are kind of on the same page will play a little bit better, so it's kind of finding a good way to kind of match that instinct and natural hockey sense and try not to get guys not to think too much. But at the same time, knowing the system's knowing where to be, then you can rely on guys being in the right spots, and it makes the game a little bit easier."
Durzi, who was acquired as part of the Jake Muzzin deal in January 2020, will be entering his third season with Ontario. He's the most experienced of the defensive corps in Arizona and he was named captain of the LA Kings squad, marking the first time he's donned a letter since junior hockey with the Owen Sound Attack.
"It's always an honor to wear the 'C," the 22-year-old said. "You know, [it] shows that the staff and the players have a lot of faith in you and trust you to kind of be their leader. I think especially in a Kings jersey, it's– you got to take a lot of pride in that. It was an honor. I mean, I didn't change too much, though. [I] played my game, within myself, and just let my natural personality do the rest."
Durzi is among a slew of players looking to make their NHL debut this season. However, the Toronto native is perhaps at a major disadvantage due to the logjam on the right side of the defense on the NHL roster. Unless a rash of injuries pop up, similar to when the Kings lost both Sean Walker and Matt Roy in the same game, Durzi will likely be looking at another season in the AHL.
However, Durzi noted earlier in the week that he was entering this tournament with zero expectations, hoping that his leadership and his play help him stand out for a potential call-up later in the year. At the very least, as Durzi said, "kind of stick my foot in the door."
That said, the former second-round pick of the Maple Leafs understands the significance of the tournament for this group of players — one that got off to a slow start last year that they ultimately could never recover from.
"I think this sets the tone for the LA Kings season, and– I mean, it's not much, but it's a rookie tournament where we're representing this team, representing the organization, and I think we're not coming here to just play it. We're coming here to win. It doesn't matter what you do. If you get to this level, you want to win, and you know you have that competitive drive. I think as soon as you get out there, you realize this is a game; this is competitive again. It's competitive hockey, it's fun, and you're trying to win. And that's the biggest thing: I think a lot of guys here know that we're here to win, and even though it's a rookie tournament, a lot of guys are taking this as a tryout, things like that. We're a team, and we want to win. So, I think it's a good way to start the season off on the right foot."
Whether he makes his NHL debut this season, Durzi is entering the final year of his three-year entry-level contract. He is one player that Coach Wroblewski will be relying on to lead a defensive corps that allowed the most goals in the AHL a year ago. Along with Durzi's leadership and Wroblewski's unparalleled passion for coaching, the Ontario Reign should be in a much better position leaving the Rookie Faceoff and heading right into training camp next week.
"It's a really underappreciated value in a lot of aspects of this game. From a coaching standpoint, I've never seen that sort of passion, and I've been — this is year two now [under Coach Wroblewski], and I think it really does help a hockey team, and it helps players feed off it. So it's great to have that," Durzi concluded.