LA Kings: Sean Durzi Enters Rookie Camp with a Nothing-to-Lose Mindset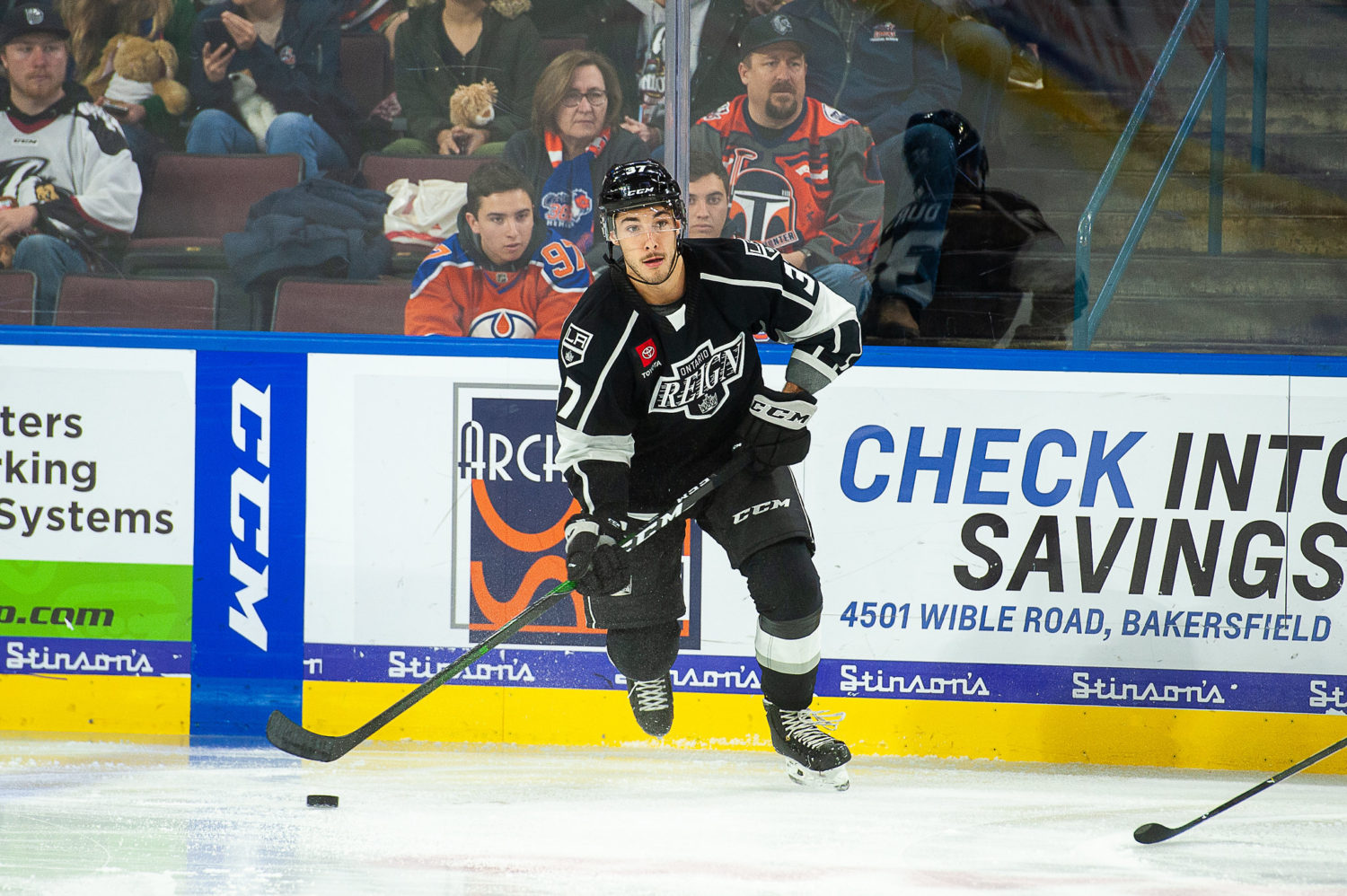 While he will be looking at finally crack the LA Kings roster, defenseman Sean Durzi can take comfort nonetheless, knowing how far he's come.
He was part of the trade from the Toronto Maple Leafs that sent defenseman Jake Muzzin to T-Dot in early 2019. Yet, while his LA Kings debut has not yet come to fruition, Sean Durzi has nonetheless been an invaluable cog to his new organization, even in the AHL with the Ontario Reign. It is this that has helped establish a winning attitude for the Mississauga, Ont., native — and entering Rookie Camp this weekend, it is reinforced just how seriously Durzi takes his role.
"This camp is setting the tone for main camp, and this is a lot of guys' first years, I think, as a guy who's gone through it a couple [of] times, I can set the tone myself, and that's just being sharp in practice, getting ready to go and do the right things before and after, and how I'm conducting myself on and off the ice," the 22-year-old explained during Thursday's Kings media call. "And I think a lot of guys did a really good job today so far, and all I can do is be myself and kind of kind of lead the way."
Of course, being a defenseman, the odds of Durzi cracking the LA Kings roster — at least full-time — will be tougher. After all, the silver-and-black have, for lack of a better term, a logjam among their defensive corps. So, barring injuries or something else unforeseen, Durzi may be forced to continue his pro career in a Reign uniform.
Whatever the case may be, Durzi is unfazed. In fact, he is entering this weekend's Rookie Camp — as well as next week's Training Camp — with a playing-with-house-money mindset.
"I kind of go into this stage of the season with no expectations," admitted the blueliner. "All I can do is control what I do on and off the ice to kind of give myself the best chance to make a statement, make the team, do what I got to do to kind of stick my foot in the door."
LA Kings: Five things to watch for at this weekend's Rookie Faceoff
The former Owen Sound Attack continued.
"I think after a few years of pro, I have a lot of experience that, as a young Sean Durzi, I wouldn't expect myself to have," Durzi noted. "You learn things that you'd never think you would ever know, and you can only learn through experience. So, I think the few years of pro so far have helped me a ton, and I'm going into the camp, putting my best foot forward doing whatever I could possibly do [to show the coaching staff] what I've got and put my foot in the door here."
Still, Durzi has that high competitive level intact, and entering a new season, the determination of elevating the overall on-ice success of the Kings and the Reign pose as a significant motivational factor to make these next few weeks the best yet.
"Yeah, I think no matter what you do, if you've gotten to the stage of hockey, you're a competitive person," the defenseman said. "You have that drive to win, and you don't like losing. So, I think it's a really good chance for us to start off the season for this organization and for this team as — with some success. And, of course, for ourselves, I think it's a big part of, you know, starting on the right foot, doing the right things, and kind of kicking off this new year on a good note."
Wherever he winds up starting — and playing most of — the season, you can bet that Sean Durzi will leave nothing on the table once he pulls on his jersey. After all, in addition to his fine leadership qualities, the blueliner does have a great defensive game to back himself up. He even proved to be a good set-up man last season, scoring four goals and adding 16 assists in 39 games for the Reign in 2020-21.
Sean Durzi is just one of many great stories to watch out for not only this weekend but beginning next week at Kings Training Camp, so let us see just what the youngster will have in store in southern California this coming season.