Garrett Raboin on LA Kings Brock Faber: "He's confident and welcomes the challenge"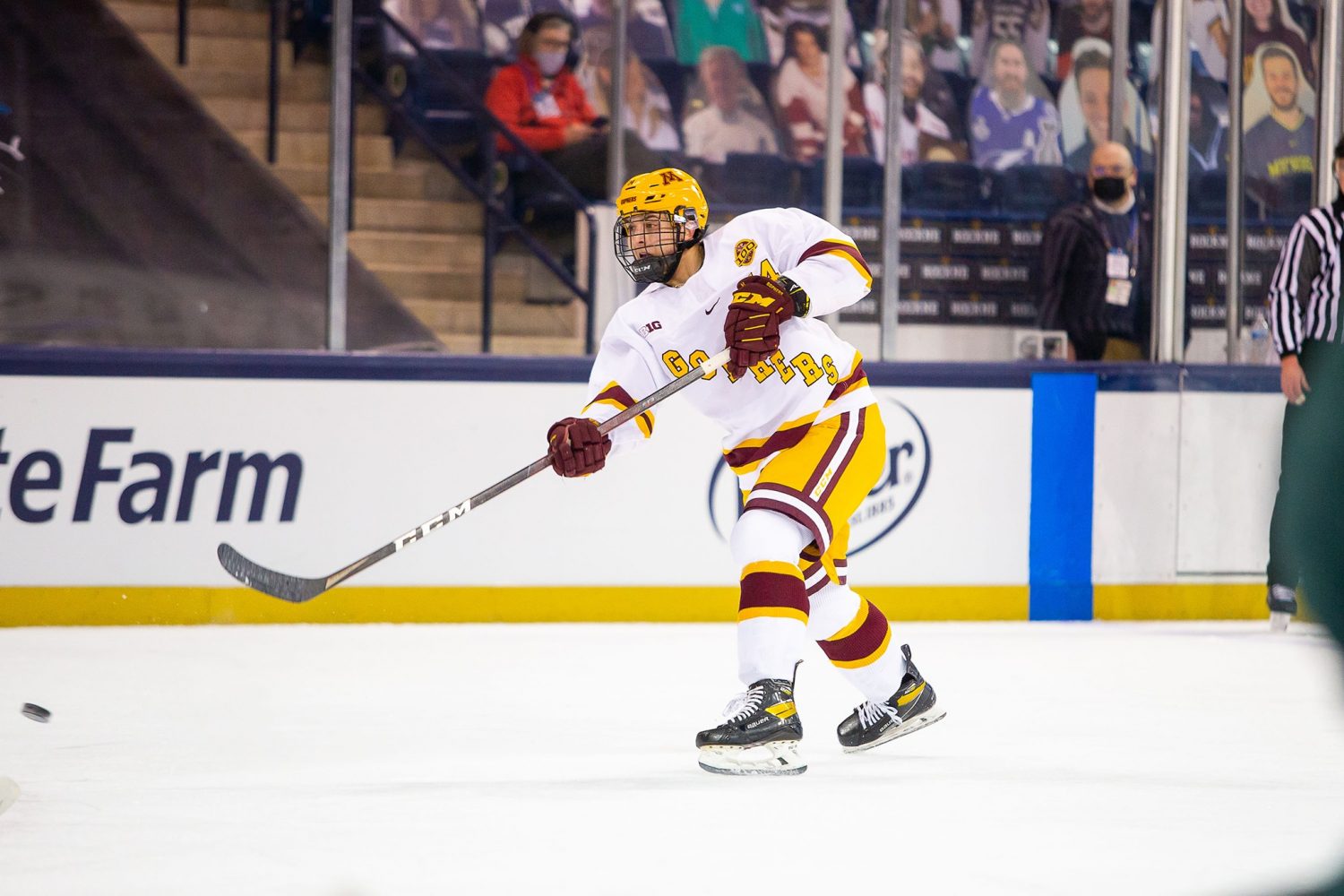 University of Minnesota Men's Ice Hockey Assistant Coach Garrett Raboin stopped by the Hockey Royalty Podcast to talk about LA Kings Brock Faber's development.
The 2020 LA Kings draft class may be one that we look back on in 10 years as one that forever changed the organization's landscape. Not only did the Kings grab arguably the best center in the draft in Quinton Byfield with the No. 2 overall pick, but their next two selections bolstered the blueline. Los Angeles took the talented – but still a work-in-progress defensively – Swedish defenseman Helge Grans, who tallied 27 points in 27 games for the Malmo Redhawks squad in his draft year.
Then, with the 45th-overall selection, the Kings moved up to get Brock Faber, who played under the watchful eye of now-Ontario Reign head coach John Wroblewski at the United States National Team Development Program in Plymouth, Michigan. Faber, from Maple Grove, Minnesota, had a verbal commitment to the University of Notre Dame. However, the defenseman reconsidered his options and flipped his commitment to the hometown University of Minnesota Golden Gophers.
In a whirlwind calendar year amid the COVID-19 pandemic, Faber played his freshman year for the Gophers under head coach Bob Motzko and assistant coach Garrett Raboin, with a pause around the first of the year to play for Team USA at the 2021 World Junior Championships. Representing his country, it took just one game for Team USA head coach Nate Leaman to promote Faber and Cam York to the team's top pairing for the remainder of the tournament, one that saw the USA bring home the gold medal.
#WJC: Clean stretch pass from RHD Brock Faber (LAK 2nd/2020) springs a 2-on-1 for C Matt Beniers (2021/2002) and LW Matt Boldy (MIN 1st/2019), with Boldy finishing. It's 6-0 Team USA over Austria with a 46-6 shot advantage for the Americans.#2021NHLDraft pic.twitter.com/0FLyZCBnnR

— Steve Kournianos (@TheDraftAnalyst) December 27, 2020
Faber collected five assists in seven games in International play before returning to campus. He helped the Gophers win the Big Ten Tournament before ultimately falling to Minnesota State in the NCAA West Regionals of the Frozen Four tournament.
We recently spoke with Garrett Raboin to reflect on Brock Faber's freshman year at Minnesota and what's next for the 19-year-old defenseman.
"We got to remember, he's just a young man, and he's confident, and he welcomes the challenge," Raboin said of Faber's freshman campaign. "That's one of the greatest things about him. He didn't come in as a lamb as a freshman, but he was respectful. And by the end of the year, that's what you saw was his personality started to come out, he was able to welcome the challenge. And he was the guy that wanted to be on the ice for every team's top lines. In the championship game of the Big Ten Playoffs, we were playing Wisconsin, and there was no chance that Cole Caufield was going to be on the ice and he wasn't gonna be there — whether I wanted him out there or not, he was gonna be out there."
Minnesota handled Wisconsin with a 6-4 victory to claim their first Big Ten title since 2015. Faber collected a blocked shot and a shot on goal to go along with a even plus-minus rating in the contest. Caufield, who went on to win the Hobey Baker Award, given to the top player in NCAA, was limited to one goal, despite registering eight shots on net.
Faber wasn't a slouch either in terms of accolades. By the end of the year, the LA Kings defensive prospect was named to the Big Ten All-Rookie Team, Big Ten Honorable Mention All-Star Team, while also being named a finalist for the Big Ten Defensive Player of the Year. As noted, he also won a gold medal with Team USA and helped Minnesota become Big Ten Champions.
In terms of his on-ice production, the 19-year-old finished with a goal and 11 assists in 27 games. Faber collected his only goal just three games into the season in a 4-1 victory over Ohio State and did most of his damage once he returned from Team USA. Over the final 21 games, the young blueliner tallied all 11 of his assists, including a five-assist night against Omaha in the first round of the Frozen Four tournament.
"You just saw him demand more ice, and he's a confident kid, but you started to see that in his play," Raboin said of Faber's confidence growing throughout the year. "I think the 12 points he had with us it – I mean, I think he had 47 games at the [USNTDP] his final year, and he had 12 points. Now he comes to us, he plays about half that, and he has 12 points. And you guys will see in time; he's so much more than points. I mean, his value; he plays heavy minutes. He plays against top teams [first lines]; he plays penalty kill. We haven't really used him on the power play. I think his game was just emphasized that much more as the season went on. And we sure used him an awful lot and in most situations."
As Coach Raboin alluded to, Faber had 15 points in 56 games for the USNTDP U17 team during the 2018-19 season. In his draft year, he followed that up with a 12-point campaign over 46 games for the U18 team. However, prior to focusing more on his defensive game under Coach Wroblewski, Faber was more offensive-minded as a bantam player, accumulating 16 points in 14 games for the Minnesota Kings 15U AAA team in 2017-18.
Now, playing under a happy medium of offense and defense, with the latter more of what the USNTDP and the Gophers have become accustomed to seeing, is more offense in the plan for Brock Faber?
"Yeah, that's one of those things we're gonna work on as we grow his game," said Raboin. "And you know, he's coming back to the college to develop as a player. And that's one of those things we're going to touch on. And, you know, it's, you know, it's nothing crazy right now with him. It's just little tweaks. He's such a dependable and reliable defender, but I think we can continue to grow his game. He's going to identify when he has opportunities to join the rush. When he's not offensive zone, where can he go to become available for a pass? And when he gets that pass, What's the next play? Is it just get it to the pads? Or do you have enough time to maybe take what the goalie is giving you? So all those things could possibly lead to him getting more offense. But he's such a valuable player as he is right now. But, hey, we're gonna keep trying to grow that layer of his game."
Gophers' D Brock Faber went into the boards shoulder first pic.twitter.com/DthQgAQQLG

— CJ Fogler AKA Perc70 #BlackLivesMatter (@cjzero) March 14, 2021
Whether more offense comes, one of Faber's best attributes is his wanting to be out there on the ice with his teammates. If you recall, the young defender took a nasty spill in the second period of the Big Ten Tournament quarterfinal game against Michigan State and didn't return. While Minnesota went on to win the game 2-1 in overtime, the high-powered Michigan Wolverines waited for the Gophers the following night.
Faber's availability to play was in question, but the reports the following morning indicated that he was well enough to play. Not only well enough, but Faber insisted his assistant coach not reduce his minutes out of caution.
"Well, he wants to play there and be there for his teammates is what it says first and foremost," Raboin concluded of Faber's toughness to return from that injury. "I think that's what was on his mind when he went down. It was awkward, and you kind of just held your breath. He's getting evaluated [and] doesn't finish that game. And the morning after it happened, we found that there's a possibility [that] he could play. So [Brock] calls me, and I know he's going to play but not to what extent. He calls me, and he's like, 'Hey, I'm playing.' And I was like, 'Yeah, I know you are, Fabes.' And he's like, 'No, you don't understand. I'm not just going to sit on the bench. I want a regular shift.' And I said, 'If your jersey is in front of me, you're going on the ice.' He's a gamer — he wants to be out there with his teammates, and he's a big part of our group."
Faber will be entering his sophomore season with the Gophers' regular season set to begin on October 2. Whether he migrates to the Ontario Reign in his age 20 season the following year remains to be seen, but Faber appears close to starting his professional career. And while Raboin himself never played professionally, the former St. Cloud State captain offered sound advice for his young blueliner as he prepares for life after the University of Minnesota.
"He just has to be himself," the coach concluded. "It's what he's done at every step of the way. You know, he's had success. I think what's gotten him there, though, is just his competitiveness, his willingness to work, and he is one tremendous human being. And I think that goes a long way. Take hockey away from it, what he means to our room, what he means to those players around him. I think that's what makes them the most special."