LA Kings: After breakthrough year, consistency is key for Trevor Moore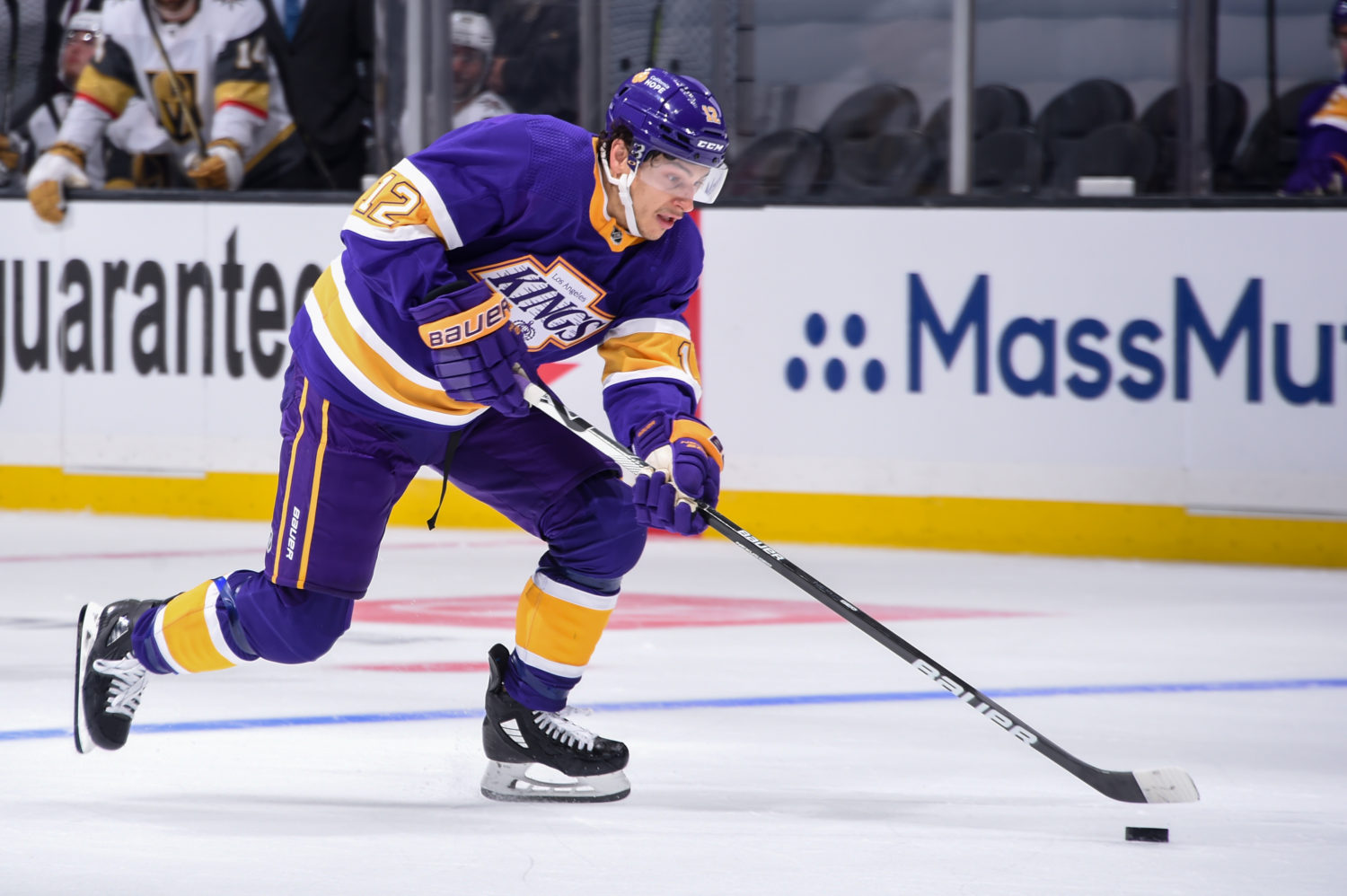 After logging career highs in several categories last season, will LA Kings forward Trevor Moore hold a permanent spot in the lineup?
Trevor Moore came to the LA Kings in the Jack Campbell and Kyle Clifford trade with the Toronto Maple Leafs in February 2020 and played in 15 games before the 2019-20 season was prematurely shut down amid the COVID-19 pandemic. The Thousand Oaks, CA, native collected three goals and five points while shooting the puck at nearly a 16% clip over that span. Moore began the 2021 season on the Kings' fourth line but saw his minutes drastically increase as the season progressed. Naturally, more TOI was the reward for finishing with the seventh-most points on the roster (23), as Moore notched career-highs in goals (10) and assists (13).
"I will tell you, I think, that player was here last year. We just didn't appreciate him enough. We didn't see him enough," McLellan said last season. "We got all focused on the COVID at the end of the year, but a lot of the time he was with us, our team had some success in the win-loss column."
Moore was the Kings' Swiss army knife last season. He played everywhere from the fourth line to a cup of coffee on the team's top line. Moore was one of the hardest-working players on the roster, and he settled into a permanent role with the club. His comfort level with the club translated to the ice where Moore looked like a completely different player than what the Kings saw, again, in the limited sample size to close out the 2019-20 season. He was carrying the puck up-ice, showcasing his speed and vision, driving plays, and finding a tremendous amount of chemistry with Jaret Anderson-Dolan.
Still thinking about how great this pass from Jaret Anderson-Dolan to Trevor Moore was 🔥

🚨 Trevor Moore
🍏 Jaret Anderson-Dolan (@MelissasProduce Apple Of The Game) pic.twitter.com/aQUeIdV3rJ

— LA Kings (@LAKings) February 17, 2021
Over nearly 130 minutes of TOI, the Moore – JAD – Grundstrom line accounted for a 45.7 xGF%, closely aligned with the Kings season metrics. Moore was a catalyst for nearly every line he played, notably producing a 61.1 xGF% with Rasmus Kupari and Adrian Kempe, which could be a fun line to start the 2021-22 season. He [Moore] was among several restricted free agents the Kings prioritized this offseason, which was evident when the club protected him from the Seattle Kraken expansion draft.
"[He] was one of our focuses, we went ahead and protected him from the expansion draft, understanding where we're at," general manager Rob Blake said. "We feel that he's an important part in our lineup, but also in the leadership and the type of culture. You can see him adapt and very much become a prominent figure in that aspect as the year went on last year."
Not long after, the Kings locked up Trevor Moore to a two-year contract extension worth $3.75M ($1.875M AAV), becoming an unrestricted free agent at the end of the 2022-23 season.
The 2021 season with the LA Kings was Moore's first real exposure to time on the powerplay. Whether he has a future in that capacity remains to be determined, but his metrics on the man-advantage were quite impressive.
Even Strength Metrics
Season
GP
G/60
A/60
A1/60
A2/60
PTS/60
2018-19
25
0.5
1.6
0.5
1.1
2.2
2019-20
27
0.7
0.2
0.2
0.0
0.9
2019-20
15
1.0
0.7
0.3
0.3
1.7
2020-21
56
0.6
1.0
0.8
0.3
1.6
Powerplay Metrics
Season
GP
G/60
A/60
A1/60
A2/60
PTS/60
2018-19
25
0.0
0.0
0.0
0.0
0.0
2019-20
27
0.0
0.0
0.0
0.0
0.0
2019-20
15
0.0
0.0
0.0
0.0
0.0
2020-21
56
1.5
1.5
1.5
0.0
3.0
A cursory review of where his even-strength P/60 rates stacked up last season:
Not included in this list but worth noting, Moore stacked up to several of his teammates in Dustin Brown (1.68 P/60), Gabe Vilardi (1.67 P/60), and Anderson-Dolan (1.53 P/60).
And also his PPP/60, which oddly enough, blankets Alex Iafallo's metrics from last season:
And it's no surprise that both Iafallo and Moore are considered by the coaching staff as part of that secondary core, supporting the veterans while helping the younger kids on the roster develop.
"For some of our mid-range younger players coming up and into the organization, maybe not being top-six players, there may be some in Ontario that are going to be middle-six or bottom-six, this guy's path to where he is right now is one that they should take a look at," McLellan said of Moore. "Little later in development, finding a role. He was an offensive guy in college, he still has that in his game, but he's been able to add to it and take on defensive responsibility. He's worked his way into a permanent position in the NHL, in my opinion."
It will be critical for Moore to continue to play at a high level in the upcoming season, especially with an already crowded roster and prospects on the way, hungry for roster spots.